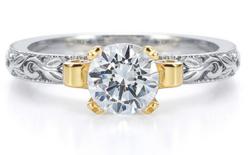 Los Angeles, CA (PRWEB) November 24, 2011
In a challenging economy, and with diamond prices consistently on the rise, couples look to other stones to crown their wedding jewelry. To meet the need for a greater variety of gemstone options, Apples of Gold is pleased to announce their line of white topaz rings.
When jewelry buyers think of stones that can stand in for the sought-after, but often hard to reach diamond, it's the cubic zirconia that comes to mind—the sparkly, clear stone that resembles the icy, pure appearance of the traditional diamond. But white topaz, also a colorless semi-precious stone, deserves a good look as well. Unlike the cubic zirconia, which is a synthetic material, the topaz is a stone found in the natural world.
Highly versatile, the topaz takes on nearly every color of the rainbow. However, topaz that is pure, and unadulterated by minerals in the environment in which it is found will be white (or colorless) in appearance—similar to a diamond.
Apples of Gold, in their desire to consistently provide high quality jewelry options at affordable, ethical prices, is pleased to highlight their line of white topaz rings—each outstanding in their quality, charm, and affordability. Several of the rings in this unique line are also available in a sterling silver setting—further enhancing the affordability of these pieces.
The most notable selling point of the white topaz is its value. White topaz, being far more abundant in the natural world, can be purchased at a fraction of the cost of a diamond. For couples unable to afford a diamond, a white topaz engagement ring is a viable option. Purchased with a high quality band and setting, the couple later has the option to replace the topaz with a diamond or other precious stone.
Apples of Gold's line of fine white topaz rings reflects the company's commitment to offering stunning jewelry at affordable prices. Founded in 1999, the company set out to develop a jewelry company that would not only do well, but would do good. Ethical, value-based pricing practices were the foundation. The Apples of Gold commitment to quality in their products and the highest standards for customer service and consumer satisfaction come naturally. In the fine jewelry industry, Apples of Gold and the reputation they uphold, never tarnishes.
Contact:
Apples of Gold
Afshin Yaghtin
606 South Hill Street, Suite 717 Los Angeles, Ca 90014
Email: marketing(at)applesofgold(dot)com
http://www.applesofgold.com
###