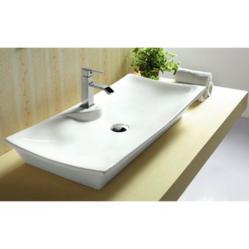 Going with traditional style doesn't mean settling for just another boring bathroom sink, there are a lot of interesting vessel sink shapes and styles available to add zest to any bathroom decor.
(PRWEB) October 12, 2012
HomeThangs.com – the Home Improvement Super Store has made their goal to deliver the right product to the consumer, with that in mind, shopping and home design tips, as well as special product selections are being introduced.
White is the ultimate traditional bathroom color – bathtubs, toilets, tile, and sinks too. But traditional doesn't have to mean boring, and a nice, clean color like white is the perfect palette to play with shape and style.
Along with a wide selection of stylish vitreous china vessel sinks HomeThangs.com introduced a shopping guide, to keep with tradition when it comes to color, but get a little more creative than an average white bowl lavatory sink.
1. Simply swapping to a vessel sink is an easy way to make a dramatic difference in the look and feel of any bathroom. Since most typical undermount and drop-in sinks look more or less the same, even very simple bowl-style vessel sinks like the Larissa Sink from Toto add an instant element of surprise to the bathroom decor. In a literal sense, they pop out – rather than having a fully or mostly smooth surface all the way across the counter top, raised vessel sinks stop and catch the eye.
2. Even in a typical white vitreous china, swapping to a vessel sink immediately adds an interesting focal point to an otherwise ordinary bathroom. There's something utterly elegant about a simple, sleek white vessel sink like the Square Vessel from Soci for example. They accent the space without overwhelming it, subtly adding to the decor without being the main focal point.
3. While many vessel sinks come in bright, brilliant colors or unique materials, a very distinctive sink aggressively sets the mood and color palette of the bathroom. A hand blown sea blue sink might be beautiful, but it can make it difficult to change the whole decor later without also changing out the sink. A white vitreous china vessel sink, like the Hilo sink from Swanstone, on the other hand, can have all the unique visual appeal of a vessel sink in terms of shape and style, without limiting the bathroom to a single color scheme.
4. In fact, white vitreous china vessel sinks are even more distinctive than an average glass or stone vessel sink, at least when it comes to shape. The Oval Vessel Sinks by Caracalla, for example, are larger than an average sink, chunky but with smooth curves. It's the perfect pair for a sleek, minimal modern bathroom and totally different from anything ordinary.
5. The possibilities are almost limitless. While colorful glass or stone, or hand-crafted metal sinks typically stick with an average bowl shape, white vitreous china vessel sinks have a little more room to be creative. The simple, solid finish and unobtrusive color don't run the risk of looking busy the way oddly-shaped, colored vessel sinks might. That means one can get gorgeous pieces like the odd and saucer-shaped Vessel Sinks by Scarabeo that will make a statement in a bathroom decor – the perfect way to build a distinct but neutral décor.
6. White vitreous china vessel sinks come in all shapes and sizes, all styles and thicknesses. The Classically Redefined bucket-shaped vessel sinks from Scarabeo is deeper than an average sink, and thin, making for a unique looking bowl that's utterly elegant and stylish, and will stand out especially well in almost any decor.
7. On the other end of the spectrum is something like the chunky Semi-Recessed Round Sink from Xylem, with very thick walls and a lot more heft. Though it's in a more traditional bowl shape, the weight of a sink like this is its own stylistic statement. A heavy bowl, rather than a delicate glass or thin-walled white sink, has a certain rustic beauty to it that's entirely unique – anything but "just" an ordinary white sink. The shape and thickness all matter, and can even help enhance the design of the bathroom, rather than just being a necessary but ultimately uninteresting fixture.
Going with traditional style doesn't mean settling for just another boring bathroom sink, there are a lot of interesting vessel sink shapes and styles available to add zest to any bathroom decor.
HomeThangs.com is not only a home improvement superstore, it also provides expert design tips and a comprehensive shopping guide, taking the ideas from professional interior designers, and offering tips to the consumers on how to pick the products to best suit their needs.