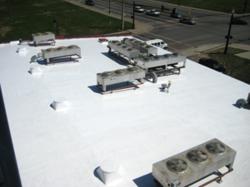 The new and improved White-Knight Plus system… is a cost-effective way to extend the life of a mature roof to allow adequate time for budgeting eventual replacement
Cleveland, OH (Vocus/PRWEB) March 24, 2011
The Garland Company, Inc., manufacturer and distributor of high-performance solutions for the commercial building envelope, has recently upgraded its multipurpose liquid waterproofing roof restoration system. The new White-Knight® Plus/White-Stallion® Plus high-reflectance, high-emittance multi-purpose, single-component aliphatic urethane coating maintains, restores, and upgrades the performance of existing aged single-ply, metal, smooth BUR, and modified bitumen roofs. In addition to its exceptional reflectivity, it offers improved tensile and tear strength.
Incorporating chemically engineered reinforcement technology used in the high-performance fabric industry, the new product achieves a tensile strength of 1700 psi and a tear strength exceeding 700 lbf./in. Its reflectance rating is 0.87, its emittance rating is 0.89, and it has an SRI (Solar Reflectance Index) rating of 110.
Whether used as a base coat or topcoat, the White Knight/White-Stallion Plus system applies easily by brush, roller, or spray. Its gray-colored base coat helps installers to properly gauge topcoat placement and thickness.
According to Tom Stuewe, Garland's product manager, "The new and improved White Knight Plus system provides 32 to 64 wet mils [26 to 53 dry mils] of additional waterproofing protection to an existing roof system. It's a cost-effective way to extend the life of a mature roof to allow adequate time for budgeting eventual replacement."
The Garland Company, Inc. is a worldwide leader of quality, high-performance roofing and building maintenance systems for the commercial, industrial, and institutional markets. For over 100 years, Garland has continually developed unique product and service offerings that raise industry standards of performance in order to meet the technical performance requirements of a wide range of challenging waterproofing applications throughout the world. Its 200 local representatives are strategically positioned throughout the United States, Canada, and the United Kingdom to provide integrated product and service solutions for single and multi-property facilities. The Garland Company, Inc. headquartered in Cleveland, Ohio, is an ISO 9001:2008 certified company.
For a free roof inspection, or for more information, visit http://www.garlandco.com, contact us directly, or phone your local Garland representative at 1-800-321-9336.
###