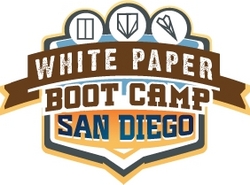 One day with Michael Stelzner could make your business wealthy
San Diego, CA (PRWEB) July 1, 2009
Not since the Great Depression have customers been so hard to find. Many businesses are paralyzed by a crippling lack of interest from prospects. However, smart marketers are thriving during these difficult times. And they're leveraging one marketing tactic that's proven to work--especially during economic downturns. "It's the one thing you can do for your business that compels prospects to buy on the spot, even during this slump," says Michael Stelzner, founder of WhitePaperSource.com.
How can Stelzner be so sure? Because during the dot.com crash in 2002, he needed a quick solution to save his consulting business, so he experimented with a new way to generate leads. Against the advice of his peers, he decided to give away some of his top secrets in the form of a white paper. But instead of talking about his expertise, Stelzner applied a unique combination of educational content with creative marketing.
The results were shocking. Leads came pouring in by the hundreds. Fast-forward seven years and Stelzner's first white paper has brought in more than 79,000 leads, landed him big-name clients and led him to pen a best-selling book on the topic (now in its fourth printing).
Today, the man MarketingSherpa calls "The Grandfather of White Papers" is recognized worldwide as a leading white paper and lead generation expert. Companies like FedEx, Microsoft, Dow Jones, LinkedIn, Monster and SAP gladly line up for his services.
Now Stelzner is sharing his breakthrough method in a special live event designed exclusively for businesses seeking to repeat his success--even in these anxious times.
"It doesn't matter who you are, where you are, or what your product or service is… The right white papers work like magic in a recession because they don't rely on overt selling," says Stelzner. Recent research supports this. A significant 86 percent of business professionals claim that white papers influence their purchase decisions, according to an Eccolo Media study.
Stelzner's clients say their profit from just one correctly crafted and marketed white paper is staggering. For example, VistaPrint collected 5,000 leads and closed 500 sales--in just 60 days! "One day with Michael Stelzner could make your business wealthy," says Ryan Malone, vice president of marketing and business development at Apani. "Following Stelzner's exact process tripled our number of qualified leads--outperforming all of our other marketing combined."
The surest way to succeed with white papers is to learn from the best. Stelzner will be revealing absolutely everything you need to know to create and market educational white papers at his exclusive White Paper Boot Camp, San Diego, a full-day workshop on Friday, August 7, 2009, guaranteed to transform your business.
White Paper Boot Camp is a no-nonsense, hands-on event that will empower you to create and market high-quality papers. You'll leave with renewed business confidence and a clear direction for creating your next profit-producing white paper, along with a step-by-step marketing plan. If you follow Stelzner's formula, you'll also change how prospects view your company forever.
Stelzner is paid $1,000 an hour to consult. But at White Paper Boot Camp, San Diego, he'll spend an entire day teaching his best content creation and marketing secrets at a small fraction of his fees. You owe it to yourself and your business not just to survive--but to thrive. Get the information you need to stop struggling and finally succeed during the recession.
Take advantage of the early bird special rate or download your FREE gift, Making Your White Paper Stand Out From the Crowd (a $39 value), just for checking out the details at http://www.whitepaperbootcamp.com/pr/.
###