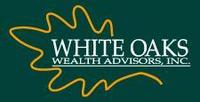 It is so hard for prospective clients to tell wealth managers apart. This recognition will help us increase our market share locally
Ferndale, WA (PRWEB) January 5, 2009
Minneapolis St Paul Magazine and Twin Cities Business have named White Oaks Wealth Advisors, Inc. (http://www.whiteoakswealth.com)] to its prestigious 2009 Five Star Wealth Manager listing. White Oaks has been recognized for each of the two years the listing has existed. Mpls/St. Paul Magazine and Twin Cities Business partnered with Crescendo Business Services to survey over 34,000 individual households and over 1400 financial service company executives to identify wealth management firms that succeeded in delivering exceptional client service. Only wealth managers with five years of experience were reviewed. In addition, the managers were checked for any regulatory violations or pending and past civil actions. A blue ribbon panel then reviewed the overall scoring to pick the finalists.
"White Oaks is proud to be recognized once again for serving clients at the highest level," commented Bob Klosterman, President and CEO of White Oaks Wealth Advisors, Inc., "and we will come to work every day to make it even better." Sharon Bloodworth, Vice-President of White Oaks remarked, "It is wonderful to add the local thumbs up to the national recognition we have all worked so hard for."! "It is so hard for prospective clients to tell wealth managers apart. This recognition will help us increase our market share locally" she continued.
White Oaks Wealth Advisors, Inc. is a private, fee-only wealth management firm with in Minneapolis, MN that specializes in simplifying the complexities of wealth for upper net worth individuals. The firm offers an advisory team with over 60 years of experience in areas such as retirement planning, investment advice and management, estate planning, tax planning, stock option exercise, charitable gift planning, qualified plan distribution planning, and many other issues that individuals face in meeting and achieving their financial security goals. White Oaks Wealth Advisors, Inc. has been honored by having team members listed on the "Top 250 Financial Advisors" by Worth Magazine, Top Dog's by Bloomberg Wealth Manager, "5 Star Advisor" by Paladin Registry, "WiserAdvisor.com" "Best 150 Advisors for Doctors" by Medical Economics and "100 Top Advisors" by Mutual Funds Magazine.
# # #