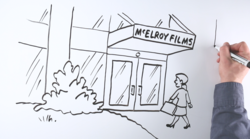 Draw on fresh video ideas to drive business to your website
Boston, MA (PRWEB) May 14, 2013
McElroy Films, your source for all your video production needs, is proud to offer yet another service to their clients: Animated doodle animation and tabletop videos. Large corporations and many top marketers are turning to alternative video methods by using whiteboard videos also known as doodle sales videos.Animated doodle videos are constantly being viewed everywhere and serve as a 24/7 sales machine for services and businesses across the Internet. The next marketing trend utilizes rapid drawn animation to entice viewers and get more video views. Whether McElroy Films is creating a video for an inspiring non-profit organization, a Fortune 500 company or a growing educational institution, an animated doodle video may be the next big thing in video to market to an audience.
The rapid drawn animation is hand scribed by a professional artist. The result is unique, entertaining and powerful way to sell. It is a creative alternative for a company or individual who may not like being in front of the camera. A script is written based on specific business needs and the message catered to the audience, professional voiceover is recorded and high-quality background music is added to the professional artist's 'doodling' away on the whiteboard drawing.
The experience of watching an animated doodle video may result in the brain being activated when watching the illustration to feel as if the viewer was actually drawing the scene. Keeping an audience engaged and entertained through print can be difficult. Video has unlimited benefits when it comes to marketing a business or organization. Engaging an audience with the experience of "feeling as if he or she is drawing the doodle video on their own" will capture and engage any audience.
In an age of smartphones, iPads and laptops in every pocket, purse and desk, an average businessperson or consumer uses the Internet to research aspects of every part of their life from restaurant recommendations to dating. A consumer is more likely to look up a website for a business to verify quality and authenticity, in addition to learning more about the company. Comscore, the benchmark of digital analytics data on the Internet, said that 85% of the Internet audience in the U.S. watches online videos regularly.
As the average businessperson or consumer researched products online before they go to buy, the key is to be the business that is found first. How is this achieved? Search engines look for content that contains video and score it higher in their rankings than any other medium or media or webpage. If a company wants to get to the top of the search engines, the easiest way is through using video, a video that is engaging and unique, like animated doodle videos.
Staying on top of the new trends in video advertising and utilizing new and improved video marketing technique will catapult a business to a paradigm shift that competitors will simply not be able to match. Animated whiteboard videos are a brand new concept, 95% of Internet businesses are still not exposed to it, which offers a huge head start for a competitive and creative edge.
A doodle video provides viewers with enough information about a business or organization for the audience to want to find out more. Animated whiteboard videos are the best way to educate that customer who approaches a business online, without the audience member feeling like he or she is being sold to. It is best to showcase the brand-new doodle video in the best possible position on the company website. The animated doodle video will tell a story that is compelling yet entertaining and educational. It is a creative and cutting edge format to catapult online business's profitability into the next level.
If you are interested in contacting McElroy Films, please call 781-229-5900 or visit our site http://www.mcelroyfilms.com.
ABOUT MCELROY FILMS
McElroy Films LLC is an award-winning producer of high definition video for corporate, educational, non-profit, wedding, music video, and independent film use. Serving the Massachusetts and New England area, McElroy Films' mission is to keep high definition video affordable without sacrificing quality. McElroy Films has assisted organizations throughout the Boston area increase their revenues and awareness by drawing in new clients and educating existing ones with concise, effective videos for the web and broadcast.