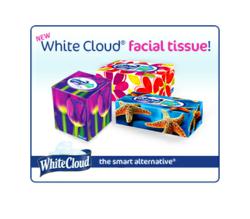 Bentonville, AR (PRWEB) February 15, 2012
Listen up, shoppers on a budget - friends don't let friends buy overpriced facial tissue. This month, Kruger Products is teaming up with Walmart® to introduce White Cloud facial tissue in 900 stores across the country. Beginning Wednesday, February 15, Kruger Products, Inc. will offer free boxes of facial tissue to loyal shoppers around the country. To redeem the offer, fans are invited to click on the custom "FREE Facial Tissue" tab and print a coupon for a free* box of facial tissue at http://www.facebook.com/MyWhiteCloud.
Bring the coupon to participating Walmart stores and receive a free box as our way of saying, "Thanks for shopping White Cloud. The Smart Alternative®!" With 16 different box designs, White Cloud facial tissue is a great addition to every room – and every family member can have a favorite!
For several decades, Kruger has produced quality bath tissue and paper towels at a not-so-premium price, so any budget-conscious friend of yours is a friend of ours. Share the free facial tissue coupon with your family members, co-workers, classmates, Facebook friends, and Twitter followers. Be sure to follow @WhiteCloudMom on Twitter for coupon updates and tips for the home. We'll talk kids, crafts, messes, savings and shopping. White Cloud facial tissue – Something Smarter Just Popped Up!
The free facial tissue coupon can be redeemed at Walmart stores in select markets only. For information on participating stores, please consult our store locator. Coupon must be redeemed on or before May 15, 2012.
*Coupon valid for one free 90-count box of White Cloud facial tissue with the purchase of any White Cloud bath tissue. Excludes cotton soft cloths. Not valid in combination with any other promotion, coupon or discount. One coupon per party. Unique barcode, one time use only. Coupon may not be copied, duplicated or reproduced. No cash value.
For more information on White Cloud products, please visit the website at http://www.mywhitecloud.com
###