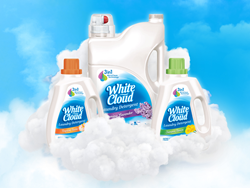 Bentonville, AR (PRWEB) February 25, 2014
White Cloud knows that fun times and the best memories often involve the messiest clothes. Now consumers can have their fun and clean clothes, too, thanks to White Cloud® Laundry Care.
White Cloud, known for its high-quality and affordable bath tissue, facial tissue and paper towels, is excited to announce White Cloud Laundry Care as the latest addition to the White Cloud family of products. The laundry care product line features three fresh scents– Blooming Lavender, Summer Breeze and Tropical Fiesta– and is now available at Walmart in both liquid and powder.
Consumers can print a high-value coupon for either $1.00 or $2.00 off any White Cloud Laundry Detergent by liking White Cloud on Facebook. Limit one coupon per consumer.
White Cloud Laundry Detergent helps get clothes clean and fresh using a 3-in-1 micro-clean technology that combines pre-treater, stain remover and color booster all into one money-saving product. The detergent's enzyme-based formula gives the detergent additional toughness to help lift out even the most stubborn stains.
"White Cloud Laundry Care will bring even more value to consumers that already know and love White Cloud," said Michael Lyons, Senior Brand Manager. "White Cloud paper products have been consistently commended by a national consumer magazine year after year and we're excited to bring the same high-quality product to the laundry care category."
White Cloud Laundry Detergent retails for $4.88 for a 100-ounce bottle, $6.88 for 150 ounces and $11.47 for the 156-ounce box of powder. White Cloud Laundry Softener is slated to be added to the Laundry Care line and hit Walmart shelves later this year.
About White Cloud
White Cloud gives families everyday comfort with products made with quality and value. White Cloud Laundry Care, Bath Tissue, Facial Tissue, Paper Towels and GreenEarth™ products are available at Walmart. For more information on White Cloud, visit [http://www.mywhitecloud.com and follow White Cloud on Facebook, Twitter and Pinterest.