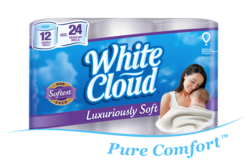 Bentonville, AR (PRWEB) June 03, 2013
White Cloud® is excited to announce the launch of its newest bath tissue, White Cloud Luxuriously Soft. This premium bath tissue offers softness and thickness comparable to the leading bath tissue, at an affordable price.
White Cloud Luxuriously Soft bath tissue is made with through-air-drying (TAD) technology, which uses hot air to blow water out of the tissue fiber, giving it a thicker and softer texture than conventional methods. It also is an effective technique to increase tissue strength and absorption.
"Bath tissue should be an affordable luxury that gives every home Pure Comfort™," said Drew Lufkin, division VP of consumer sales for White Cloud. "With Luxuriously Soft Bath Tissue, families can enjoy premium softness and quality every day without stretching their budget."
Luxuriously Soft Bath Tissue is made from renewable fiber sources and is Forest Stewardship Council® certified. Each sheet is embossed with a cloud pattern and combined with 165 sheets per roll.
Luxuriously Soft is sold exclusively at Walmart in select markets for a suggested retail price of $5.97 for a 12-roll pack. Consumers can visit http://mywhitecloud.com/StoreLocator to find the nearest Walmart that carries Luxuriously Soft and other White Cloud products.
About White Cloud
White Cloud paper products give families everyday comfort with products made with quality and value. White Cloud facial tissue, bath tissue, paper towels and GreenEarth™ products are available exclusively at Walmart. For more information on White Cloud, visit http://www.mywhitecloud.com and follow White Cloud on Facebook, Twitter and Pinterest.
About Kruger Products L.P.
Kruger Products L.P. is Canada's leading manufacturer of quality tissue products for household, industrial and commercial use. Kruger Products L.P. serves the Canadian consumer with such well-known brands as Cashmere®, Purex®, SpongeTowels®, Scotties® and White Swan®. In the U.S., Kruger Products L.P. manufactures the White Cloud® brand, as well as many private label products. Kruger Products L.P. has approximately 2,300 employees across North America and operates five Forest Stewardship Council® Chain of Custody-certified mills (FSC® C104904), four of which are located in Canada and one in the United States. For more information, visit http://www.krugerproducts.ca.