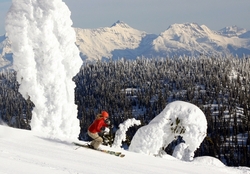 It would be great if our out-of-town guests would take a moment to thank the pass holders for their efforts when they meet them on the lifts or in the bar
Whitefish, Mont. (Vocus) March 2, 2009
Nearly 8,000 season pass holders at Whitefish Mountain Resort surpassed 1 billion vertical feet of skiing and snowboarding on Tuesday, Feb. 24, as tracked by the resort's "Big Vertical" program.
Resort officials said they were excited to have their own unfathomly large number to talk about.
"These kinds of really big numbers seem to be getting a lot of news coverage lately," said resort spokesperson Donnie Clapp. "You know, billions, trillions, that sort of thing. From what I've heard, even congress is on the absurdly-large number bandwagon."
Whitefish Mountain Resort has been tracking the number of vertical feet its season pass holders ski for several years. Pass holders can keep tabs on their totals, as well as those of their friends, on the resort's website at no additional charge.
One run on Chair 1, a high-speed quad lift that ferries skiers from the mountain village all the way to the summit, is worth 2,084 of the ski area's available 2,353 vertical feet. Other of the resort's 10 regularly operating lifts offer less vertical per ride.
In 77 days of skiing between Dec. 10 and Feb. 24, Whitefish pass holders had skied a total of 1,008,115,366 vertical feet.
"I mean, that's simply a gargantuan number," said Clapp. "Just look at all those commas."
Whitefish season pass holders had to ski and snowboard more than 13,092,407 vertical feet per day to achieve the historic 1 billion vertical feet mark by Feb. 24.
"It's a tough job we ask our local pass holders to take on," said Clapp. "Every morning, the people who live in Whitefish wake up and know that they have to go hit the slopes to do their part. I'm sure that seems pretty horrible to all the city dwellers out there who only have to ski a few days a year, but Whitefish is very close-knit. It's a team effort, and we all help each other through."
"Getting to the billion mark can be a little lonely," said one skier. "I mean, it's such an uncrowded place. Sometimes, I'm out there racking up vertical all day long and I only see a few other skiers."
The most prolific skier in Whitefish had skied over 2,618,428 vertical feet (an average of 34,005 vertical feet, or more than 16 runs on Chair 1 per day) as of Tuesday, Feb. 24, but could not be persuaded to stop skiing long enough to comment.
Day ticket skiers and snowboarders cannot track their vertical, but resort officials said anyone is welcome to come to Whitefish and cheer on the pass holders. Ski and stay packages as low as $70 per person per day for slopeside accommodations and unlimited skiing are available at http://www.skiwhitefish.com.
"It would be great if our out-of-town guests would take a moment to thank the pass holders for their efforts when they meet them on the lifts or in the bar," said Clapp.
About Whitefish Mountain Resort
For more than 60 years, Whitefish Mountain Resort has been America's favorite destination for good times, good people, and great snow. Rising above the historic railroad town of Whitefish, in beautiful northwest Montana, the resort has gained notoriety for its laid-back vibe, world-class skiing, and spectacular summer recreation at an unbeatable value. Boasting more than 3,000 acres of bowls, chutes, and glades, and more than 300 inches of Rocky Mountain snow on average, Whitefish's Big Mountain is the quintessential skier's mountain. Consistently ranked highly in SKI Magazine's annual reader survey, it is just as well known for a pleasant lack of lift lines as it is for friendly people, deep powder, and wallet-friendly pricing.
When the snow melts, Whitefish Mountain Resort becomes home to thrilling zip lines and an alpine slide, world-class downhill and cross-country mountain biking, and the unique Walk in the Treetops, in addition to spectacular hiking, water sports, fly fishing, whitewater rafting, Glacier National Park, and more available in the greater Whitefish area. It is the perfect base camp for a summer visit to Montana's majestic Flathead Valley. Call 877-SKI-FISH or visit http://www.skiwhitefish.com for more details.
# # #