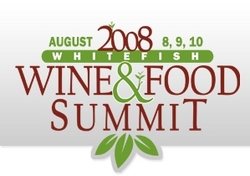 White Fish and White Wines on the Mountain
Whitefish, MT (Vocus) July 22, 2008
Whitefish Mountain Resort is joining forces with Glacier Restaurant Group and more than 30 top west coast wineries to bring the Whitefish Wine & Food Summit to northwest Montana Aug. 8, 9, and 10.
The event will consist of several symposiums, tastings, dinners, and book signings, all under the expansive Montana sky at Whitefish Mountain Resort. Proceeds from the summit will benefit the Big Mountain Firefighters Association and the Whitefish City Police and Fire Departments.
"We're hoping to celebrate wine and food as only Northwest Montana can," said resort marketing director Nick Polumbus. "In the same way that Whitefish has always been a uniquely laid-back corner of world-class skiing, this will be a uniquely unpretentious event in the world of fine wines."
Among those notable figures in attendance will be 2004 Chef of the Year and chef of the renowned Napa Rose Andrew Sutton, Master Sommelier Michael Jordan, Winemaker of the Year Adam Tolmach, Wine Bible author Karen MacNeil, International Wine Cellar editor Stephen D. Tanzer, and Wine Enthusiast editor Steve Heimoff.
Sutton will provide a live cooking demonstration during the "White Fish and White Wines on the Mountain" tasting Friday night, where winemakers in attendance will pair their favorite white wine offerings with various renditions of white fish.
"It's going to be a great time," said Polumbus. "Good food, good wines, and good people. What more could you ask for?"
Several events during the summit have already sold out, however tickets for the White Fish and White Wines tasting on Friday, as well as the Grand Tasting on Saturday are still available. More information can be found at the event website - http://www.whitefishmountainwines.com, or by calling the resort at 877-SKI-FISH.
Winemakers presenting wines will include Addamo Estate Vineyards, Adelsheim, Alta Maria, Arcadian Winery, Bergstrom, Bien Nacido Vineyards, Blackbird Vineyards, Chehalem, David Arthur Vineyards, Falcone Family Vineyard, Firestone Vineyard, Foley Estates Vineyard & Winery, Frank Family Vineyards, Herman's Story, Hill Family Vineyards, Hug Cellars, Kenneth Volk Vineyards, Lincourt Vineyards, Nadia, Native 9, Melville, Merus, Ojai Vineyard, Opus One, Paul Lato, Rosenblum, Rusack Vineyard, Samsara, Sequoia Grove, St. Francis, Stolpman, Three Rivers Winery, Williams Selyem, and others.
About Whitefish Mountain Resort
For more than 60 years, Whitefish Mountain Resort has been America's favorite destination for good times, good people, and great snow. Rising above the historic railroad town of Whitefish, in beautiful northwest Montana, the resort has gained notoriety for its laid-back vibe, world-class skiing, and spectacular summer recreation. Boasting more than 3,000 acres of bowls, chutes, and glades, and more than 300 inches of Rocky Mountain snow, Whitefish's Big Mountain is the quintessential skier's mountain. Ranked in the top 20 in SKI magazine's annual reader survey, it is just as well known for a pleasant lack of lift lines as it is for friendly people and deep powder.
When the snow melts, summer brings the breathtaking Walk in the Treetops canopy tour, lift serviced hiking and mountain biking, and breathtaking views of Glacier National Park, the Flathead Valley, and the Canadian Rocky Mountains to the resort. Just minutes away from downtown Whitefish, the Mountain Village offers a full range of amenities, including fine dining, shopping, entertainment, and family-friendly activities. For more information on visiting Whitefish, visit http://www.skiwhitefish.com or call 877-SKI-FISH.
###