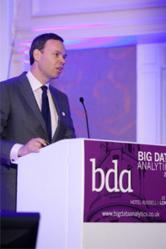 The event proved to be so successful that Whitehall Media has now been asked to schedule another Big Data conference before the end of the year
(PRWEB UK) 4 July 2012
Whitehall Media, the UK's market-leading business-to-business multi-platform media group is delighted to announce that its recent Big Data Analytics Conference, 2012, was received with critical acclaim by both leading industry sponsors and delegates in the Large Enterprise Sector. The prestigious cross-industry conference, which was held at Hotel Russell, London on 20 June, brought together CEO's, Business Directors, Heads of BI, CIOs and IT executives who approved or recommended analytical systems and solutions that run against large data sets, to discuss data management, analysis, security and storage strategies and best practices.
Big Data Analytics 2012 proved to be a not only a great experience, but also the resounding success that Whitehall Media had expected. The feedback received on the day from the 530 delegates and major industry sponsors attending the event was compelling and wholly positive: the organisation, the structure, the venue, the staging, the thought-provoking content and exhibition were all singled out for praise. The event proved to be so successful that Whitehall Media has now been asked to schedule another Big Data conference before the end of the year. Whitehall Media Group would like to thank all who attended this stimulating and informative conference, and invite all these delegates to our next Big Data conference which will be held at the Victoria Park Plaza, London, on 6 December 2012.
Whitehall Media is committed to developing market-leading brands and driving business forward. Its brands inform, inspire and connect in every sector in which the company operates. Whitehall Media has been successfully producing public policy and mainstream commercial strategy conferences and events since 2005, delivering 50 events each year, and working with public bodies, membership associations, think tanks, campaign groups, voluntary organisations and the commercial sector. The company has created a unique range of brands and has demonstrated a proven ability to market effectively to target audiences.
Whitehall Media maintains an undiluted and critical focus on content and product quality across conferences, awards, exhibitions, and intelligence services. This strategy enables the sharing of best practice, ideas and inspiration, for better, more timely, and more informed decisions. Whitehall Media's conference strategy is founded on giving business professionals the commercial understanding and access to the people and organisations they need to do their jobs better. It specialises in delivering professionally managed and strategically marketed events on the biggest issues of the day, like Big Data, Big Data Analytics, Critical National Infrastructure, Identity Management, Public Sector Enterprise ICT and Central Government Business and Technology.
Commenting on the conference, Whitehall Media's director, Waqas Hashemi, expressed his satisfaction at the overwhelmingly positive response generated by the latest Big Data conference and exhibition:
"Everyone at Whitehall Media is absolutely delighted with the response that Big Data Analytics 2012 generated. It's very rare indeed to get such positive feedback on the day of the event itself, but that's exactly what we got. Every delegate and sponsor we spoke to stated that the event was a fantastic experience overall and was, by far, the best event of its kind that they had attended. The organisation, structure, venue, inspiring and thought-provoking content and the great exhibitions were especially singled out for praise."
"All the delegates I spoke to seemed to find the experience worthwhile and many stated that they had found the available expert sessions and case studies invaluable, and would take away valuable lessons about how to apply analytics to big data for better business outcomes. All of the event sponsors were also full of praise for this year's conference, claiming that not only had the conference been a fantastic and inspiring event, but that it had also introduced them to many new contacts and leads."
"Big Data Analytics, 2012, was very well received. In fact the demand for another similar event was so overwhelming that we have decided to run another Big Data event before the end of the year. So we're pleased to announce an additional Big Data Analytics conference which will be held on 6 December, 2012 at the Victoria Park Plaza, London. Bookings have already started to be taken and are proving to be extremely popular. If you are considering attending this additional event, then Whitehall media would suggest you book early. If you're interested in attending the next Big Data Analytics conference, then contact steve(dot)richardson(at)whitehallmedia(dot)co(dot)uk."