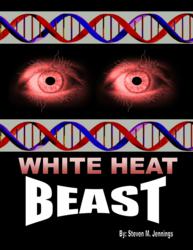 This novel is something that I had to release into the universe. It's scary, thought provoking and of course scientifically possible.
Tallahassee, Florida (PRWEB) October 01, 2012
TV Producer, Author and Educator Steven Jennings is releasing three unedited chapters from a science fiction novel he recently wrote entitled, "White Heat Beast." The book is about a young white street thug with a dangerous history and a certain genetic mutation, who is discovered in a national health information network and tricked by unseen political forces into joining the military, just to become a guinea pig for an experimental procedure in molecular nanotechnology. Things eventually backfire and all hell breaks loose on earth.
White Heat Beast is the first novel in a trilogy that was written to make readers question the world they live in, the people they know and the motivation behind the actions and decisions they make on a daily basis. According to Jennings, "This novel is something that I had to release into the universe. It's scary, thought provoking and of course scientifically possible." Jennings built the story on his personal experiences as a youth in a street gang, a young man transitioning into the military and eventually working in the fields of public health and state government.
Jennings said, "I started with the framework of certain realities in which I was intimately acquainted. Then I began to flesh the story out with information I researched about nanotechnology and current legislation in healthcare. Real life events, like the recent move for the nationwide implementation of electronic health records, which will eventually lead to the formation of a national repository was very interesting to me and had a lot to do with how my main character is brought to the attention of a clandestine government organization."
Several unedited chapters of the novel are now being released to the general public in an effort to raise funding for editing and marketing on Indiegogo.com, a website that raises funds for various types of projects. " I am releasing a chapter from the beginning of the book, the middle of the book and the end of the book, because I want people to read it at no cost and gain a good understanding of the gritty, grimy hardcore feeling of this book," said Jennings. His fundraising webpage expires on October 26, 2012, but until then supporters are able to participate in a variety of affordable funding options in exchange for incentives, such as having their name included in the credits of the book and receiving advance copies. Jennings included the unedited sample chapters of his book as attachments to his original press release on PRWeb.
About the author:
Steven Jennings is the creator of the TV program formally known as The Cipher Show, an entertainment news and celebrity interview program that aired on television stations in Florida and California from 2001-2009. He has traveled across the United States on a mission to empower aspiring entertainers. Now he is writing novels that he hopes will impact the genre of science fiction books and films. For more information on Steven Jennings read his entire biography at: http://www.indiegogo.com/mrsteven71111 and visit his webpage to support his novel at http://www.Indiegogo.com/WhiteHeatBeastNovel