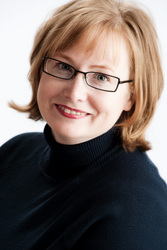 The opportunity to have my personal and professional work spotlighted for the Minnesota business community is so wonderful
Minneapolis, MN (PRWEB) March 30, 2010
Sharon Bloodworth, Partner and Vice President of White Oaks Wealth Advisors Inc in Minneapolis was named a Forty Under 40 Honoree by The Minneapolis/St. Paul Business Journal Magazine on Thursday, March 25. Forty top professionals under the age of 40 are selected for their remarkable business accomplishments and their contributions to the community. This award represents true leadership and dedication. Sharon Bloodworth comments, "I am elated to receive this significant honor from the Minneapolis St. Paul Business Journal." She also states, "the opportunity to have my personal and professional work spotlighted for the Minnesota business community is so wonderful."
Working for an independent wealth advisory firm, Sharon co-manages $250 million in assets and contributes greatly to the continued success of White Oaks Wealth Advisors Inc. Sharon is passionate about finding a genuine connection with clients and helping them achieve their goals and dreams. She is also passionate about education. Sharon funded the rebuilding of a Kindergarten in Indonesia with a personal goal to build nine more in her lifetime. She is an active member of the Rotary Foundation and a member of the Minneapolis Club's Family and Children Committee.
White Oaks Wealth Advisors Inc is a private, fee-only wealth management firm within Minneapolis, MN that specializes in simplifying the complexities of wealth for upper net worth individuals. The firm offers an advisory team with over 60 years of experience in areas such as retirement planning, investment advice and management, estate planning, tax planning, stock option exercise, charitable gift planning, qualified plan distribution planning, and many other issues that individuals face in meeting and achieving their financial security goals. White Oaks Wealth Advisors, Inc. has been honored by having team members listed on the "Top 250 Financial Advisors" by Worth Magazine, Top Dog's by Bloomberg Wealth Manager, "5 Star Advisor" by Paladin Registry, "WiserAdvisor.com", "Best 150 Advisors for Doctors" by Medical Economics and "100 Top Advisors" by Mutual Funds Magazine.
###