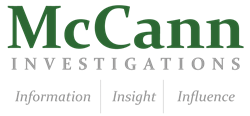 Smaller companies are more at risk given that they often do not have the resources as a larger company to secure their networks against such attacks
Houston, TX (PRWEB) April 11, 2013
McCann Investigations, a Texas-based computer forensics firm released a white paper titled Digital Intellectual Property Theft: Protecting your Organization. This paper explores the complexities of digital intellectual property. The sophistication of cyber assaults has increased at alarming rate allowing hackers to steal intellectual property from individuals and small companies, to large companies with a significant global presence.
In many cases, intellectual property theft occurs during a data breach which can often come from external sources such as hackers. But many times, intellectual property theft occurs when present for former employees (sometimes in collusion with one another) download or export proprietary company information such as engineering drawings, client lists or trade secrets. This is often done when those employees are seeking to create a competing company. In many intellectual property theft cases facilitated by employees, there is a component of non compete violations. Many companies have solid non compete agreements in place to prevent intellectual property theft and infringement issues.
"Intellectual property theft has become a big business for foreign countries looking to gain an edge in the global market." Says Daniel Weiss, Managing Partner of McCann Investigations. "Smaller companies are more at risk given that they often do not have the resources as a larger company to secure their networks against such attacks." Continued Weiss
McCann Investigations Houston Division specializes in several case types including fraud, embezzlement, theft, non compete enforcement, digital debugging, data breach incident response and complex family, civil and criminal.
About McCann Investigations
McCann Investigations is a Texas-based private investigations practice focused on comprehensive investigations incorporating digital forensics, surveillance, undercover work and backgrounds for clients in various case types. Case types include intellectual property theft, non compete enforcement, fraud, embezzlement and family law. McCann Investigators are experts in the latest computer forensics tools and are licensed with the state of Texas. McCann computer forensics examiners have provided expert testimony and reporting in hundreds of cases across the state.
Through digital investigations, McCann also delivers digital debugging and data breach and incident response services. In cases where there is suspected external or internal hacking with the installation of malware of spyware or when data and privacy loss has occurred due to network breach, McCann investigations computer forensics and IT security experts use cutting-edge tools to document, evaluate and respond to the incident. McCann works with clients to analyze their IT networks and put protocols in place to secure the network.
McCann Investigations utilizes multiple tools in their comprehensive investigations including digital investigations, digital debugging, corporate investigations, litigation support, IT security audit and oversight, complex family, civil and criminal.
http://www.mccanninvestigations.com
Facebook: http://www.facebook.com/McCannInvestigations
Twitter: @mccanngi