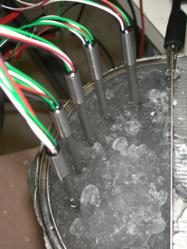 Our verification program has been critical to ensuring accurate temperature measurements.
Minnetonka, MN (PRWEB) November 15, 2012
Burns Engineering's new white paper provides the evidence and guidance necessary to justify and define an RTD accuracy verification program. All temperature sensors are influenced by the experience of temperature cycles, temperature excursions, vibration, time in use, corrosive or abrasive process fluids and the external environment. A study of the application in the context of the sensor manufacturer's stated performance capability; along with knowledge of the sensor's behavior over time in the application provide critical insights to long term measurement confidence. This comprehensive paper, Developing a Periodic Performance Verification Program for Platinum Resistance Thermometers provides the guidance to develop a plan that is right for your application.
Burns also offers several other papers to assist in improving temperature measurements. Papers include matching a transmitter to the sensor for improved accuracy and understanding important installation considerations. Visit the Technical Papers page on the Burns website to view other insights on RTD selection, installation, and error sources.
About Burns Engineering:
Since 1960, Burns Engineering has been an industry leader in the design and manufacture of temperature measurement products for the Process, OEM and Metrology industries. Burns designs custom temperature measurement solutions to meet safety, process efficiency and product quality needs. Products include RTDs, Secondary SPRTs, Thermocouples, Thermowells, Transmitters and NVLAP Accredited Calibrations (Lab Code 200706). Learn more about Burns Engineering at http://www.burnsengineering.com or contact at 800-328-3871.