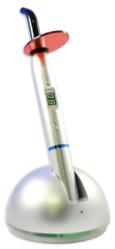 The Total Whitening Solution for The Smart Dentist
Atlanta, GA (PRWEB) November 08, 2011
With the release of their new Handheld Cordless LED Curing Light, Atlanta-based Whiter Image is set to unveil a fresh new look across their entire product line. Both the newly redesigned product packaging and new curing light, will be on display at the Greater New York Dental Meeting this November 27th through the 30th.
"For years we've been helping people and practices revamp their image through our industry-leading line of whitening products. We just figured it was time to give ourselves the same treatment," said Keith Rodbell of Whiter Image. "Between our always affordable line of in-office and take-home whitening products, and the new curing light, we can put a comprehensive line of affordable, effective and let's face it, sexy products in the hands of the dental professional."
The curing light features a lightweight super-capacity Lithium ion battery, three pre-programmed modes and an ergonomic design that makes it easy to reach hard-to-cure areas. This high-intensity light offers all the benefits of traditional curing lights. However, the $399 price tag enables it to really shine in these uncertain economic times.
"I encourage anyone who's attending the GNY Dental Meeting to stop by booth #1904 and take look at everything we have to offer. If you're not using Whiter Image products, then I can all but guarantee you we'll be able to save you money," added Rodbell.
While Whiter Image is best known for their totally unique Chic FlicTeeth Whitening & Lip Gloss Plumper Pen, they also feature a comprehensive catalog of whitening products for the dental practice. But Whiter Image does not stop there. They further set themselves apart from the competition by supporting their practices with Personal Marketing Consultants, individuals that help practices maximize their marketing efforts. It's a benefit reserved for Whiter Image practices.
Whiter Image is a leader in the teeth whitening industry with some of the most innovative, effective, and beautifully packaged solutions in the market. The company distributes whitening systems and retail products to dental practices both domestic and internationally. The company has a reputation for outstanding results, affordable products and unsurpassed customer support. You can view their complete line of products online at http://www.whiterimagedental.com.
###