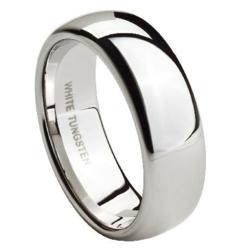 JMR shoppers are in for a treat with this new collection of white tungsten men's rings, which were added in response to increasing customer demand.
Jensen Beach, FL (PRWEB) January 18, 2012
Since JustMensRings.com (JMR) launched nearly seven years ago, this specialty online retailer has gained a loyal following of shoppers from all walks of life. Customers rely upon JustMensRings.com for the best selection of affordable designer men's rings and men's fashion rings every day. JMR is pleased to introduce a luxurious selection of white tungsten men's rings, one of newest offerings within their alternative metals collections. Utterly brilliant and just as white as pricier platinum, these beautiful men's rings are crafted to the finest detail.
One of the most popular retail jewelers for men, JustMensRings.com has recently added several new collections of unique and alternative rings, including men's white tungsten. JMR shoppers are in for a treat with this new collection of white tungsten men's rings, which were added in response to increasing customer demand. Tungsten carbide rings have become such a popular item because of their natural strength and scratch resistance, but some shoppers didn't like the gunmetal gray color of the metal. Many chose to buy black tungsten instead, but there was still a market for a lighter and whiter version of tungsten. Now that men's white tungsten rings are available, this alternative metal is expected to attract many would-be platinum buyers.
To understand what makes men's white tungsten rings so special, one must first understand how alternative metals evolved. It wasn't long ago that men's wedding bands were only available in a few metals – white gold, yellow gold, platinum and silver. But there were some problems with each of these metals. Gold is beautiful and lustrous, but because it is so soft it can wear down over time. White gold needs to be re-plated with rhodium to retain its shine, and it can cause skin reactions in men with nickel allergies. Platinum is gorgeous but very rare, which makes it more expensive than any other jewelry metal. Silver looks attractive for fashion rings, but some men don't find it lustrous enough for a wedding band.
As the price of gold and platinum goes up, more men have been seeking out alternative metals for a wedding band. While many have opted for natural tungsten carbide, others have told the retailer that they would like it better if it wasn't so "gray." Fortunately, the manufacturers of tungsten carbide jewelry must have heard them. Using the latest technology, they developed a spectacular alternative version of tungsten that is bright white instead of gunmetal gray. When shoppers look at a collection of men's white tungsten rings, they often mistake them for platinum.
The most noticeable difference between platinum and white tungsten is the price, but another big difference is its durability. As strong and beautiful as platinum is, it doesn't resist scratching as well as tungsten. Tungsten is an extremely dense metal, and the only material hard enough to make a noticeable dent in it is a diamond. Until now, there hasn't been a metal with all the best qualities of platinum and tungsten rolled into one. White tungsten may be that metal that JMR shoppers have been waiting for, and white tungsten men's rings offer an affordable alternative to platinum.
About JustMensRings:
As an Internet-only retailer, JustMensRings.com is dedicated to providing a simple and secure online shopping experience. This is one site where customers know they are getting the best possible prices on an extraordinary selection of men's rings. JMR's customers have come to expect high standards of service, selection and quality when they shop at JustMensRings.com. In fact, Just Men's Rings (http://www.JustMensRings.com) now offers the largest selection of men's fashion rings on the Internet, and they are the only store in the U.S. that offers men's large size rings through size 20. They also lead their competitors with an unparalleled assortment of unique and alternative men's wedding rings, and JMR is known for their very low prices on men's gold rings. Despite the recent rise in gold prices, JMR keeps their prices low and affordable, and shoppers won't find better prices on silver, cobalt, palladium or platinum anywhere.
###