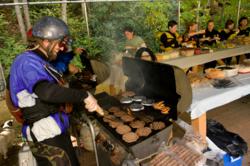 It feels really good to know that we're reducing our operation's impact and implementing a good sustainability practice.
Oak Hill, WV (PRWEB) June 30, 2011
The outdoor professionals at ACE Adventure Resort are keen on sustainability as they show guests the rivers and forests of West Virginia, but now they're applying that sustainability ethos to the food they serve guests.
In an effort to increase sustainability at ACE Adventure Resort, Vice President Ernie Kincaid has taken initiative to plant over 200 tomato plants, along with a variety of other fruits and vegetables. The resort is growing many of its food staples to serve on site at the resort's dining lodges. ACE is even receiving support for the project from the state's department of agriculture.
Earlier this year, Kincaid started the tomato project in his own kitchen by planting 220 seeds in the spring. Then, once the weather warmed, the tomato plants were moved outside and to Mountain Top, the campground located atop ACE's property.
To better the growth of the plants, a high tower was constructed there on site. This structure is a type of greenhouse which will extend the growing season for the plants by protecting them from West Virginia's fluctuating weather.
Kincaid said that, with 50,000 guests a year and three restaurants on resort property, ACE serves up an incredible amount of food, and the sustainability project could have a significant impact.
The high tunnel structure would not have been made possible, however, without the help from a USDA Specialty Crop Block Grant Program (SCBGP) award, given to ACE. The SCBGP focuses on the promotion and development opportunities for fresh fruits and vegetables in West Virginia.
According to the West Virginia Department of Agriculture, West Virginia has received close to $1 million in funds to date that have been dispersed to more than 130 recipients for innovative and relevant opportunities and challenges in specialty crop production and the promotion of healthy eating throughout the Mountain State.
"The high tunnel attempts to provide fresh produce to the resort's food service operation leading to gains in sustainability and a reduction on the reliance of non-local food supplies," said Gus Douglass, commissioner of the WVDOA.
The grant also made the tilling of the land the plants are housed on possible. A rototiller was purchased with the funds awarded to ACE. With the land tilled and the high tunnel constructed, ACE's own garden was well on its way to functioning by late spring.
Kincaid's heirloom tomatoes, expected to be ready by July or August, will be served among other locally grown foods at the ACE's Lakeside Dining Lodge. With each plant expecting to produce between 10 and 20 pounds of tomatoes, much of the lodge's tomatoes will be from Kincaid's garden this summer. Along with the 220 tomato plants on ACE's Mountain Top camping area, Kincaid has also planted several lettuce, radish, spinach and basil plants on Mountain Top.
"It feels really good to know that we're reducing our operation's impact and implementing a good sustainability practice," said Beth Gill, ACE's marketing manager. "And hopefully, our guests will notice the difference when they're dining. Food is a pretty important part of the vacation aspect, and this is just going to make meals that much fresher and healthier."
ACE Adventure Resort, located in Oak Hill, West Virginia, is North America's largest outdoor activity resort. The 1,500-acre park offers whitewater rafting, zip line tours, rock climbing, mountain biking and a dozen other adventures to vacation guests, including a 5-acre lake. The resort's activities and lodging are available year-round.
###