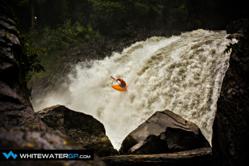 This is by far the most challenging and exciting event I've ever competed in. This sets a new standard for extreme sports events.
Osorno, Chile (PRWEB) December 03, 2012
Today the Second Annual Whitewater Grand Prix kayaking championship kicked off on the Gol Gol River in the Los Lagos region of Chile. Thirty of the world's best extreme kayakers, including several Olympic athletes and world-record holders, gathered to test their skills against each other and the legendary rapids of Chile. Video of today's course can be seen here: http://vimeo.com/54746649
The 14-day event includes 5 stages of intense class V whitewater paddling in a variety of racing formats: Whitewater Enduro, Whitewater Sprint, Boatercross, and one of the most intense giant slalom courses in professional kayaking history. The events will take place December 1-14, 2012.
"This is by far the most challenging and exciting event I've ever competed in," said athlete Rafa Ortiz (MEX), who earlier this year made an attempt to tie the world-record for the tallest waterfall ever descended in a kayak (Palouse Falls in Washington, USA – 189 Feet). "Last year's event was a huge success and it's great to see so many top kayakers together in such a unique place on the planet. This sets a new standard for extreme sports events."
This is the second year of the Whitewater Grand Prix, which is supported by the Association of Whitewater Professionals, a non-profit association of whitewater kayakers and filmmakers. The inaugural event was held in 2011 on the high-volume rivers of Quebec and Ontario, Canada. Nineteen-year-old whitewater phenomenon Dane Jackson, son of former Olympic Slalom Athlete and Freestyle World Champion Eric Jackson, placed first in the event last year and will be competing again this year, along with top whitewater athletes representing 13 different countries.
"We started the Whitewater Grand Prix in an attempt to break through to a broader audience, showcase our sport at its best, bring together the global paddling community, and highlight the growth our sport has experienced over the past few years," said Patrick Camblin, the event director. Since 2008, whitewater kayaking has seen a 24 percent increase in participation according to the Outdoor Industry Association.
After today's competition in Osorno, the event will move to Pucon, Chile, and then to the Futaleufu region of Patagonia. Regular updates, including professional video and photography, will be available throughout the event on Facebook and at http://www.whitewatergrandprix.com. A full-length, made-for-tv video segment will also be available following the event. The Whitewater Grand Prix is also seeking interested television networks to broadcast the TV segment.
For additional information, please see http://www.whitewatergrandprix.com
Please send all media inquires, including interview requests, to PR (at) triberider (dot) com
Follow us on Twitter at: @whitewaterGP
Follow us on Facebook at: http://www.facebook.com/whitewatergrandprix
Schedule of Competition:
Stage 1 (12/3): Whitewater Enduro Race, Rio Gol Gol
Stage 2 (12/5): Whitewater Sprint Race, Rio Truful Truful
Stage 3 (12/8): Giant Slalom, Rio Trancura
Stage 4 (12/12): Big Water Boatercross, Rio Futaleufu
Stage 5 (12/14): Big Water Enduro Race, Rio Futaleufu
2012 Whitewater Grand Prix Athlete Roster:
MEN:
Dane Jackson (USA)
Ben Marr (CAN)
Rush Sturges (USA)
Evan Garcia (USA)
Isaac Levinson (USA)
Mike Dawson (NZL)
Eric Deguil (FRA)
Michele Ramazza (ITL)
Dag Sandvik (NOR)
Lorenzo Andrade Astorga (CHL)
Fred Norquist (USA)
Joel Kowalski (CAN)
Anton Immler (SWE)
Geoff Calhoun (USA)
Jakub Nemec (CZE)
Jared Seiler (USA)
Todd Wells (USA)
Kyle Hull (USA)
Juan Antonio De Ugarte (PER)
Mikel Sarasola (ESP)
Adrian Kiernan (AUS)
Galen Volckhausen (USA)
Marcos Gallegos (CHL)
Rafa Ortiz (MEX)
Daniel Rondón (PER)
Momo Castillo (CHL)
WOMEN:
Louise Urwin (NZL)
Nouria Newman (FRA)
Martina Wegman (NLD)
Katrina Van Wijk (CAN)
Natalie Anderson (USA)
Louise Jull (NZL)
Nicole Mansfield (USA)
About the Association of Whitewater Professionals
The Association of Whitewater Professionals (AWP) is dedicated to showcasing the world's best whitewater talent in a variety of progressive formats. We strive to highlight our sport and the incredible places it brings us while respecting and preserving the beauty and power of our rivers. Find out more at http://www.awpworldseries.com.