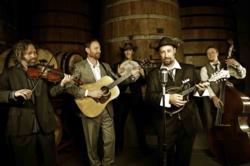 Whitewater Ramble's genre-bending, high-energy grooves will send your body and soul rushing down the rapids of infinity! - Steve Molitz – Particle / Phil Lesh & Friends
Boulder, CO (PRWEB) April 19, 2013
Whitewater Ramble Releases Roots & Groove
Following the critically acclaimed release of Whitewater Ramble's debut studio album, All Night Drive, in the summer of 2010, the band is back with their 2013 release, Roots & Groove, which again features Tim Carbone of Railroad Earth at the helm as producer (Greensky Bluegrass, Great American Taxi). Described as "High-Octane Rocky Mountain DanceGrass;" Whitewater Ramble's sound is a high-energy marriage of traditional Americana roots music and insightful lyrical content mixed with dance beats, rhythms, and grooves.
Roots & Groove shows the band expanding on their genre-bending sound while introducing new elements to the Whitewater Ramble repertoire. The album features an array of special guests such as Andy Hall on dobro (Infamous Stringdusters), Andy Thorn on banjo (Leftover Salmon), Grammy Award winner John Macy on pedal steel and Bill McKay (Leftover Salmon, Derek Trucks Band) on piano. Driven by blistering picking, engaging harmonies, and alluring grooves, the ensemble burrows flagrantly into tragedy, comedy, redemption, over indulgence, morality, and shady dealings as the backdrop for their genuine and eccentric style of writing.
The Colorado-bred quintet combines the elements of mandolin, fiddle, acoustic guitar, upright bass, and drums, which is a key differentiator, to explore the musical boundaries of multiple genres. The musical and lyrical themes on Roots & Groove feature a reggae anthem, the plight of the working man against the establishment, feel-good songs about home and family, and stories of heroes and villains all rounded out with a bluegrass interpretation of the classic U2 song "One Tree Hill."
Whitewater Ramble is Patrick Sites (mandolin/vocals), Patrick Latella (acoustic guitar/vocals), Howard Montgomery (upright bass/vocals), Zebulon Bowles (fiddle), and Paul Kemp (drums). The band has had the privilege of supporting, touring with, and sharing stages with Railroad Earth, Michael Franti and Spearhead, Dark Star Orchestra, Peter Rowan, The Motet, Greensky Bluegrass, Little Feat, The Gourds and many more. Roots & Groove is the best demonstration of the convergence of styles from Whitewater Ramble's traditional Americana and bluegrass background, mixed with modern grooves and flair. For existing fans, the record marks significant progress and maturity within the group, lyrically, vocally, and instrumentally. For new folks, the broad strokes and variety of genre and instrumentation will capture their attention with their distinct sound.
"With a list of influences that reaches into every corner of contemporary music, from reggae to blues to country and beyond, Whitewater Ramble pushes the boundaries of the form way past the edge. It ain't your grandpappy's jug-band music anymore, now it's jam-grass." - The Boulder Daily Camera
You can learn more about Whitewater Ramble at http://www.whitewaterramble.com.
If you have any questions, comments or would like to set up an interview, please contact Melissa Zeigler at melissa(at)powderfingerpromo(dot)com.
Powderfinger Promotions Independent Radio Promotion and Publicity - Since being founded in October 1994, Powderfinger has come to be regarded as a top indie radio promoter and publicity firm with ties across North America.