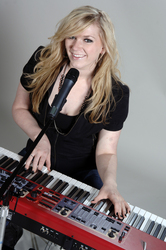 New York, NY (PRWEB) December 2, 2008
Whitney Wolanin (pronunciation WHOA- Lan- in) singer, pianist and Pop Rock multi genre songwriter will play a live acoustic show at Hard Rock Denver on December 19. The sold out show will feature some of her newest original songs (Sunglasses, Flatline, So Close, etc.) plus some of your holiday favorites from her Christmasology Album in the mile high city.
Whitney had her original song "Loud and Clear" co-written with her sister pianist composer Victoria Wolanin on the hit MTV show "The Hills" during the summer and has an acoustic version of "Loud and Clear" she plays on her piano live that is fan popular. Also on the bill with Whitney at Hard Rock Denver will be Simon Collins, son of rock legend Phil Collins. A free download version of "So Close" plus a chance to win prizes from TopNotch® Records are available to her fans. Free Whitney Wolanin "So Close" MP3 Download plus Win Prizes Here.
At the movies in December as well the Whitney Wolanin penned original song "So Close" will be featured at over 10,000 movie theaters across the US.
During 2008 Whitney has toured radio stations around the US, Australia, and New Zealand. Her song "So Close" received radio airplay in Australia, New Zealand and in Europe. In Germany her song "So Close" was number 1 for over 8 weeks on the new artist pop chart in Berlin.
Whitney Wolanin will be releasing a new EP of all original songs in 2009 titled "Girl." with the release date to be announced. Also in early 2009 Whitney Wolanin will be performing at the nationally televised Vanderbilt- Alabama NCAA Mens Division 1 Basketball Game and at the NCAA Mens Basketball Division 1 Atlantic Sun Conference Finals Championship Game.
Flight program- maintenance management services for recording artist Whitney Wolanin for the Hard Rock Denver Show provided by PrivateSky® Aviation Services, Inc..
Official Websites:
Whitney Wolanin Official Website
Whitney Wolanin Official My Space
Whitney Wolanin on iTunes
# # #