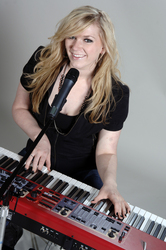 "I have followed the Olympics my whole life and it is an honor to perform my songs for the Olympians, Artists and Prince Albert in honor of our friend Al Oerter" Whitney Wolanin
Nashville, TN (PRWEB) March 2, 2011
Whitney Wolanin, the Songstress and Mezzo Soprano Piano Pop Rock Recording Artist will play a portion of her Sunset Sessions song set for Prince Albert of Monaco and his fiance former South African Olympic swimmer Charlene Wittstock on March 5, 2011, with Olympian athletes in attendance at a private Olympians dinner ceremony in honor of Art for the Olympians..
Then on March 10, Whitney has been invited to sing lead vocals on Aretha Franklin Stax songs with the Bar-Kays, Otis Redding's legendary backing band. This will take place at the Stax Records Soul Review, a private industry party in Nashville where 2,500 music industry stars and VIPs are invited guests. Otis Redding Jr. will sing his father's hit songs at the event as well.
On April 16-17 2011 Whitney Wolanin will star in the Off Broadway Play "I Love You, You're Perfect, Now Change" in Nashville, Tennessee.
In Fall 2011 Whitney Wolanin will embark on "The Whitney Wolanin Red Piano Radio Tour" in US markets where VIP Listeners of the local radio station will get a chance to mingle with Whitney in an intimate acoustic concert limited to 250 fans of the radio station. After the event fans will be treated to Rosa Regale and other surprises as they get a chance to meet the songstress face to face up close in a post show VIP meet n greet.
Recently the weekend of February 19 Whitney Wolanin played as a featured performer at Sunset Sessions, a gathering of Radio, Film, and TV Entertainment programmers from around the US, held at the La Costa Resort in San Diego, CA. Whitney debuted some of her new music from her next album and played alongside Stevie Nicks, k.d. lang, Augustana, Crystal Bowersox, Vanessa Carlton, Sia, and John Waite.
Whitney Wolanin Music is sold on i Tunes and 300 other music and ring tone download sites around the world.
# # #