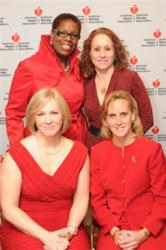 Through all of our nutrition education efforts, and our work with the AHA, we are striving to create a better, healthier future for our families.
Islandia, NY (PRWEB) March 09, 2012
According to the Center for Disease Control and Prevention (CDC), one in every three deaths is from heart disease and stroke, equal to 2,200 deaths per day. This number is even higher in women over 25 years old, for which cardiovascular disease is the number one killer in the United States. However, alarmingly, less than 25% of women view this type of disease as a health threat; that's why the American Heart Association (AHA) instituted Go Red for Women, their national movement to raise awareness about cardiovascular diseases.
On February 16th, the AHA hosted their annual Go Red for Women Luncheon. This year, the AHA honored Whitsons Culinary Group for their continuous nutrition education efforts and promotion of healthy eating. As a dining services provider, Whitsons is truly committed to offering wholesome meals, low in sodium and free of artificial flavors, with a strong focus on sourcing whole grains, low fat dairy, lean proteins, zero trans fats and emphasizing locally sourced products whenever available and in season.
As part of the event, Whitsons also offered the "Stealth Nutrition" workshop, in which Katherine Barfuss, Whitsons Culinary Group Dietitian explained how making small changes in meal preparation can have a very significant effect in our diet. Ms. Barfuss provided practical knowledge on how to eat healthy for our heart as well as recipes and healthy snack ideas.
Since education is a key component of cardiovascular disease prevention, AHA is bringing its My Heart, My Life Teaching Garden program to Long Island. This program will fund teaching gardens at schools on Long Island, where students, teachers and community members will be able to join efforts and learn the importance of heart healthy nutrition. Whitsons will collaborate with this program and sponsor AHA's inaugural teaching garden. According to Beth Bunster, Whitsons' CFO, "through all of our nutrition education efforts, and our work with the AHA, we are striving to create a better, healthier future for our families."
About Whitsons:
Whitsons Culinary Group provides a wide range of highly customized dining services to public schools, corporations and institutions, with a strong focus on nutritious, high quality menus made from fresh, wholesome ingredients. Whitsons has a long and proud history of excellence and growth since 1979 and currently ranks the 16th largest dining company in the United States (Food Management magazine, September 2011). Whitsons' scope of expertise and services extends to: culinary development, residential and healthcare dining, prepared meals, emergency dining and vending services.