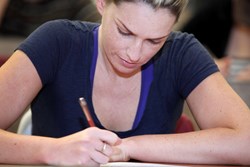 Two years ago we significantly changed our bar preparation program, and this year's passage rate shows the first evidence of its success
Orange County, Calif. (PRWEB) November 29, 2012
Whittier Law School graduates who took the July 2012 California State Bar Examination for the first time passed at a rate of 70.21%, an increase of 14% over the 2011 July results. This is the highest first-time bar pass rate achieved by Whittier Law School graduates since 1998, with the exception of 2008. In addition, 78% of Whittier's first-time out-of-state test takers passed an exam. The California bar will release a list of each school's passage rate in the next month.
"Two years ago we significantly changed our bar preparation program, and this year's passage rate shows the first evidence of its success," said Tina Schindler, Director of Bar Preparation. "Moreover, we have yet to see the full effect of the revised program. As our future classes advance through the new program, we are optimistic that we will see even greater gains."
Whittier Law School will hold a swearing-in ceremony and reception for new members of the California bar on Monday, December 3 at 5 pm in Room 1. For more information go to http://www.law.whittier.edu.
About Whittier Law School:
Founded nearly 50 years ago and accredited by the American Bar Association since 1978, Whittier Law School offers a practical, hands-on legal education with experiences that prepare graduates for today's practice. Whittier Law School is located at 3333 S. Harbor Boulevard in Costa Mesa, California. For more information, visit http://www.law.whittier.edu or call (714) 444-4141 ext. 130.