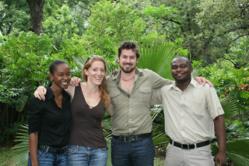 whl.travel taps into and magnifies the excellence of local tourism experts who, alone, are local leaders, but united have become a forceful global presence for the right kind of tourism.
New York, NY (PRWEB) January 29, 2012
When travelers prepare to hit the road, they look for the best of the best – the best experiences in the best destinations based on information from the best travel experts. Last week, whl.travel, a global online travel-booking network of expert local tour operators leading the way in experiential and responsible travel, announced the winners of its 2011 internal competitive performance review.
With a steady eye on identifying fun, interactive and ethical travel experiences, whl.travel taps into and magnifies the excellence of local tourism experts who, alone, are local leaders, but united have become a forceful global presence for the right kind of tourism, sharing with major markets all the local opportunities that make a positive impact on hosts and visitors. whl.travel's guiding vision is to reward local knowledge and a personal touch by ensuring that the money spent on tourism remains in the destination.
From within that network, the whl.travel performance review singled out the four tour operators – one from each of four broad geographical areas – that, in 2011, best modeled a set of standards in areas critical to the operation of their own businesses but also fundamental to the success of the global network. Assessment criteria included response times and customer service, maintaining an active social media presence and keeping destination Web portals up to date.
In Africa, whl.travel is anchored in about 40 destinations across 20 countries. Taking honors on this continent was the Responsible Safari Company, the whl.travel local connection for Malawi. Apart from demonstrating a strong commitment to community development through sustainable tourism initiatives, they have proven that they are serious about client services.
The whl.travel local partners in Nepal, the Philippines and northeast India stood out from the mix of more than 70 destinations in 26 countries in Asia and Oceania; however, it was the Philippines' Go Discover Travels, one of the first partners to join the whl.travel network, that came out on top for their whl.travel Boracay Travel website. They also manage portals in the Philippines for Cebu, Palawan and Manila.
Corfu Sunspots Travel Ltd, the whl.travel local expert in Corfu, Greece, ranked above approximately 40 other destinations in about 20 countries in Europe and the Middle East. What started as a small family-run business back in 1986 has blossomed into one of the largest, most reputable and successful agencies on the island.
The whl.travel local connection in Santa Marta, Colombia, was crowned the winner in the Americas, where there are about 50 whl.travel destinations in 15 countries in Latin America and the Caribbean. The Santa Marta site is owned and operated by Las Pleyades, a small company that is a big player when it comes to developing social and environmental travel.
"While every network is only as strong as its weakest link, it's also as ambitious as its strongest," commented Rob Short, CEO of whl.travel. "whl.travel relies on each local operator to help build and develop our shared global brand. If we want travelers to support local companies then it's essential that their service standards compete with, if not exceed, that of the large global powerhouses. Add in a large dollop of local knowledge and we're tough to beat."
About whl.travel
whl.travel is a global online travel-booking network of local franchise operators who have practice in experiential and mindful travel and a local's knack for identifying, explaining and sustaining the distinctive qualities of a place. whl.travel is part of the WHL Group, the largest local-travel company in the world.
Originally started in 2002 as a pilot project of the IFC (part of the World Bank Group), whl.travel was spun off as a private company in 2006 and grew into the WHL Group, a global network of award-winning companies that help travelers find unique ways to experience a destination through local tourism professionals present in more than 100 countries.
For more information, visit http://www.whl.travel or contact Ethan Gelber, ethan(at)whl(dot)travel, +1 718-395-9537.
# # #