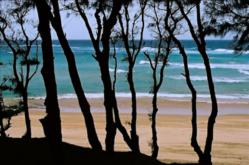 A new partnership forged between whl.travel and Dana Tours serves the interests of independent travelers in search of the real Mozambique.
New York, NY (PRWEB) December 19, 2011
With 1,000 kilometers of coastline along the Indian Ocean, the Republic of Mozambique is bursting with warm, sun-filled beaches and peaceful, pristine swimming spots that are fast making the country a prime destination for holiday-goers headed to Southern Africa. Now, a new partnership forged between whl.travel and Dana Tours serves the interests of independent travelers in search of the real Mozambique.
While not ignoring the country's white sandy coves and mesmerizing sunsets, the new whl.travel travel portal draws travelers' attention to Mozambique's unique character and culture. In the capital city of Maputo, with its impressive colonial architecture, cobblestone streets, excellent local cafes and colorful downtown markets, a tour of the Mafalala district bookable though the whl.travel Web portal opens windows onto Mozambique's more recent and turbulent past, putting the country's rich ethnic diversity into historical perspective. Mafalala is an important cultural and political suburb notable as the birthplace of famous political leaders, writers, musicians and sporting heroes.
Through whl.travel Mozambique, visitors can also choose from among a good mix of Mozambique hotels and accommodations. Many Maputo hotels realize the importance of connecting business with community development and socially minded tourism enterprises. whl.travel Mozambique makes this clear when it can, including about establishments like the Cardoso Hotel, which is actively involved in the local Maputo non-profit sector. Mozambique resorts such as the Indigo Bay offer a wide range of leisure activities such as diving and other water sports, while actively supporting local residents through adult literacy drives, and building transport facilities, water pumps and local community centers.
Similarly, with over 10 years of experience, the local travel experts at Dana Tours are eager to share their wealth of knowledge about Mozambique without losing sight of community projects that have become so central to Mozambique's success. In addition to organizing Mozambique tours and running a Mozambique ground transportation company, Dana Tours is actively involved in hosting volunteers through programs that connect North American students with hands-on local travel learning experiences in Mozambique orphanages.
With the launch of her whl.travel website, Dana Tours' founder Natalie Tenzer-Silva is excited to bring the magic of Mozambique to the independent travel market. "One of the attractions of joining whl.travel is that I will be dealing with the clients directly," says Tenzer-Silva. "So often we don't get a feel for what the client really wants because there are agents in between us who don't really know much about Mozambique and what it has to offer – though this is no fault of the agent. There is not much available in the way of tourist information about Mozambique. By dealing directly with the client, we can elicit exactly what he expects to accomplish, and ensure that we realize his dreams."
About whl.travel
whl.travel is a wholly owned subsidiary of the WHL Group, the largest local-travel company in the world. Originally started in 2002 as a pilot project of the IFC (part of the World Bank Group), whl.travel was spun off as a private company in 2006 and has since grown into a global franchise network of award-winning companies that help travelers find unique ways to experience a destination through local tourism professionals present in more than 100 countries. The launch of http://www.tourmozambique.travel brings to nearly 50 the number of whl.travel destinations launched in Africa. The WHL Group companies empower local partners who have practice in experiential and mindful travel and a local's knack for identifying, explaining and sustaining the distinctive qualities of a place.
Contact: media(at)whl(dot)travel
###