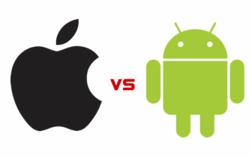 Android users are 3% more likely than iPhone users to checkout online
London, UK (PRWEB) November 30, 2011
The iPad might be the top gift this Christmas but Android users are more likely to shop online using their mobile device say online retailers, Make Me Beautiful. The company, which specialises in jewellery for a predominantly forever 30s female market, such as designer clip on earrings, said that a study of their users revealed that although users of Apple products such as the iPad and iPhone outnumbered Android users, Android users were 0.5% more likely to complete a purchase than iPad users and 3% more likely than iPhone users. Users of other mobile operating systems such as Symbian or Blackberry OS mainly used the site to gather information and did not typically try to checkout.
"Mobile users in the last 3 months now represent just under 10% of our total traffic on http://www.make-me-beautiful.co.uk," explained Misae Richwoods, director of Make Me Beautiful. "This is statistically significant as a channel and, excluding Google Shopping, means it could equal Comparison Shopping Engines over the next 12 months. I certainly consider our audience to be fairly with-it, however we were surprised to see just how quickly the channel had grown and that Android users were clearly finding surfing on their devices that much easier."
The main findings of the study were:
o Mobile as an eCommerce channel has grown above expectation and is now close to rivalling Comparison Shopping Engines in traffic
o While Apple devices dominate the marketplace, users may expect checkout to be "app easy" or abandon, especially on the smaller devices
o Conversion rates on better devices are just over 0.5% lower than that recorded on PCs
The Make Me Beautiful website was not using a mobile version of the site during the study. The data is predominantly based on the UK market where mobile usage is high due to the availability of smartphone handsets and affordable data tariffs. The data for the 3 months leading into November 2011 were analysed. Data from the past 12 months was also reviewed and showed mobile traffic more than doubling during the reporting period.
About Make Me Beautiful
Make Me Beautiful was the first site that made clip on earrings sexy and stylish again. Whilst other sites focus on peddling Pat Butcher's left overs, Make Me Beautiful curates a fashion forward collection of the best of Britain's talent with over 1,000 lines from leading designers all in clip on, screw on, spring loaded or other non-pierced designs. Make Me Beautiful serves customers in over 30 nations and three languages via it's online web store at http://www.make-me-beautiful.co.uk together with partner sites from it's headquarters in Wimbledon, London and customer service centre in Florida, USA. Make Me Beautiful is a trading name of Rising Dragon Enterprises Ltd.
Media Contact:
Misae Richwoods
0208 123 9800
press(at)make-me-beautiful(dot)co(dot)uk
http://www.make-me-beautiful.co.uk
# # #