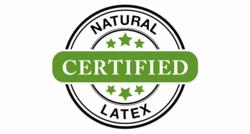 San Diego, CA (PRWEB) May 14, 2013
One of the biggest draws of latex mattresses for consumers proves the perceived natural characteristics. However, it can be hard for consumers to determine which options are really natural when comparing different products due to confusing marketing lingo and limited product information about latex in general.
Best Mattress Brand, a bed blog, seeks to answer consumers' questions in their latest article, "Who Sells Certified Natural Latex Mattresses?" This guide explains what to look for when shopping for a natural latex bed and introduces readers to common certification bodies they can check for. A comparison of leading latex brands is also provided.
The website posits that the best way consumers can ensure they are getting natural or organic products is to look for certifications by legitimate third-party organizations that have no biases. The Oeko-Tex 100 standard is identified as the eminent certification for natural latex mattresses, and Best Mattress Brand offers a detailed explanation of the criteria products must meet to achieve approval.
Mattresses that meet the Oeko-Tex 100 standard will be free of heavy metals, pesticides, chlorinated phenols, chloro-organic chemicals, bio-active finishes, allergenic dyes, and also have minimal levels phthalates , formaldehyde, benzene and toluene well below legal thresholds. One interesting bit of information the article obtained from the certifier's website is that Latex International, a prominent supplier to many retailers, is the only North American manufacturer to meet the 100 standard for latex mattresses.
The article also considers organic certifications, reminding readers to always check what is being certified organic and who is certifying the product. The recently published Global Organic Latex Standard is the only measure for organic latex, but the end product (mattresses) are not currently recognized for USDA certification, contrary to some marketing claims. For fabrics like cotton and wool, Best Mattress Brand identities a few trusted seals including USDA, Oregon Tilth and the Global Organic Textile Standard (GOTS).
To answer the question of who sells certified natural latex mattresses, the blog reconsiders their previous comparison of latex brands in chart form. They compare six popular retailers and provide information on the type of latex used, whether it is Oeko-Tex certified, any organic certifications, and the starting price.
Between the six brands, only three meet both Oeko-Tex standards and identify organic certifications for their mattress covers. Of these three, the article finds minimal tangible differences aside from cost. The best value is determined to be 100% natural latex mattresses from Astrabeds.com, which start about $200-550 less than the comparable lines. The guide and comparisons ultimately offer readers valuable tips for identifying natural latex mattresses and understanding the claims and terminology used in the industry.
BestMattress-Brand.org is a mattress research blog designed to provide information to mattress shoppers. With a mission to make bed shopping easier, editors provide unbiased assessments of manufacturer claims and customer satisfaction. The blog also features industry news and brand reviews based on first and third party research, and offers weekly newsletters for subscribers.