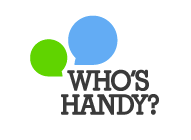 With WHOISHANDY consumers can save up to 30% on Home Renovations and Remodels
Orlando, FL (Vocus/PRWEB) March 01, 2011
WHOISHANDY allows consumers with almost any service need (e.g. home remodel or repair) to find consumer-rated contractors, handymen, landscapers and more completely for free. Home owners post their service needs on WHOISHANDY and customer-rated contractors will submit quotes for these projects. The clue is, that the quotes are public and service providers can underbid each other. It gives the consumers the best price guaranteed.
Service professionals on the other hand, can actively search WHOISHANDY's job database and pay only a small commission, if they are actually awarded with a job. Service professionals decide on their own, for which jobs they want to submit quotes. They only pay, if they are actually awarded with the job by the consumer. In addition WHOISHANDY also has a subscription model designed for service providers, who frequently use WHOISHANDY to find contracts.
What distinguishes WHOISHANDY from other sites is its public and transparent approach. Ali Mustafa, co-founder at WHOISHANDY explains, "WHOISHANDY does not place itself as a decision maker between the consumer seeking a service and the service provider, like other sites do. We believe that WHOISHANDY represents the true spirit of the Internet, which aims for transparency. We give the users the tools and information necessary to make sound decisions by themselves. We don't believe in deciding about which service provider is good enough for a job. We let the users decide."
WHOISHANDY also is a lot more cost saving for contractors, since they have three payment models to choose from. Manuel Schramm, co-founder at WHOISHANDY describes, "at WHOISHANDY, service professionals pay only if they actually win the job. Other sites charge service providers for every job lead, not knowing if they actually want or even win the job. We received a lot of feedback from service pros, who already loved our site prior to our launch!"
To ensure quality, WHOISHANDY heavily depends on its rating system for their service providers. Doing background checkups on businesses gives a very limited view of the actual performance of a service provider. Reviews and ratings submitted by actual consumers say a lot more about the professionalism and quality of a service provider than any trade license or business registration does.
WHOISHANDY co-founder Ali Mustafa said, " We are excited about WHOISHANDY and the positive feedback we received from consumers and service providers so far. Our site is limited to Florida at the moment, but we can't wait to expand to other states."
For more Information, visit WHOISHANDY at http://www.whoishandy.com
About WHOISHANDY
WHOISHANDY connects people with service needs, such as homeowners, to customer-rated contractors in Florida. Homeowners can find local contractors, handymen, painters and more for any repair or home improvement job or other type of service. Consumers describe and post their jobs for free and local contractors will submit competitive quotes. The Consumers can then simply compare quotes & ratings and choose the best contractor for their project. Consumers can look up the online profiles and ratings of contractors and compare the service providers, if they are qualified for the job. All contractors are customer-rated to guarantee quality. http://www.whoishandy.com
# # #