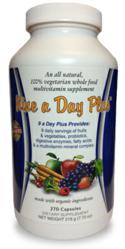 Nutritional vitamin and supplement company, True Healthy Products now offers natural whole food vitamins that are made from real fruits and vegetables and are vegetarian-friendly.
(PRWEB) December 22, 2011
All natural nutrition company, True Healthy Products now offers whole food vitamins made from fruit and vegetables that fit into a vegetarian life style. The vitamins, "9 A Day Plus" are said to provide the daily nutritional value comparable to eating 9 servings of fruits and vegetables.
According to the company, "If you want to improve your diet, health and enjoy a better quality of life, it's important to supplement your diet with organic vitamin and mineral supplements. The American Medical Association encourages everyone to supplement their diet with vitamins and minerals because most people don't get enough of certain nutrients from the foods they eat every day."
The company's whole food multivitamin supplement is all natural, 100% vegetarian and made with organic ingredients. 9 a Day Plus provides nine daily servings of fruits and vegetables, probiotics, digestive enzymes, fatty acids and a multivitamin mineral complex.
Some of the reasons listed on the importance of good health through natural supplementation are:
1. All Natural vitamins and mineral supplements are rapidly absorbed by the body. Your body can easily utilize the nutrients from organic sources.
2. All Natural vitamins and minerals support a healthy lifestyle. Increasing your intake of natural vitamin and dietary supplements can support a healthier lifestyle by delivering a high dose of antioxidants, minerals and other essential nutrients.
3. All Natural vitamins and dietary supplements are free of synthetic chemicals. Choosing these vitamins and mineral supplements mean you won't be consuming toxins and artificial ingredients that can compromise your health.
True Healthy Products offers a wide range of all natural products from whole food vitamins, natural dark chocolate, weight loss products and sports nutrition. For more information on all natural supplements to support a healthy lifestyle or to get started on a regimen for better health visit the company's website, http://www.truehealthyproducts.com.
True Healthy Products
2460 North Courtenay Pkwy, unit #210
Merritt Island, FL 32953
http://www.truehealthyproducts.com
888-400-2920
###