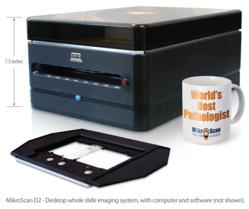 Don't let the small size and small price fool you, it's an incredibly robust instrument with powerful computing and networking capabilities for anywhere-in-the-world collaboration of digital slides.
Vista, CA (PRWEB) November 02, 2010
New California-based whole slide imaging manufacturer, MikroScan Technologies, announces their first line of products designed to bring true desktop convenience and personal operation to the world of virtual microscopy.
Digital imaging in the world of microscopy is evolving at a high rate. Digital pathology is becoming increasingly important in every laboratory and pathologists require rapid access to high-quality whole slide images for fast diagnosis, real-time consultations from anywhere in the world, as well as long-term preservation of digital samples with untold future benefits to medical research. MikroScan Technologies specializes in building whole-slide scanning solutions engineered specifically to meet these needs for pathologists, scientists, laboratories and other medical and industrial applications.
Bob Goerlitz, president of MikroScan Technologies, said, "We design our products with every pathologist, technician and researcher in mind. The D2, S2, and S8 are very easy to use, with a minimal learning curve and they integrate quickly and easily into any lab workflow. Our Image quality, speed of acquisition, software, and hardware capabilities exceed that of many other systems and at a fraction of their cost. Our game changing affordability and small footprint finally empowers every pathologist to scan slides from their very own desktops, and that's something that has never been realistic until now." Mr. Goerlitz continued, "Don't let the small size and small price fool you, it's an incredibly robust instrument with powerful computing and networking capabilities for anywhere-in-the-world collaboration of digital slides."
MikroScan Product Line
MikroScan systems deliver high-quality, fast whole-slide imaging (WSI) scans for accurate on the spot, or remote diagnostic examination. The high-speed scanner delivers typical scan times of less than 2 minutes for 15x15 mm sample at 20x magnification. Acquired slide images are compatible with many leading third party image analysis, diagnostic and data management applications.
The MikroScan D2 desktop personal whole slide scanner is a complete turnkey solution, including a computer and Q-Skan scanning software. The D2 model includes a reversible easy loading paddle that holds up to four 25x75 mm slides or two 50x75 mm slides. With a small desktop footprint, low profile, and compact design, the D2 is ideal for any desk or laboratory workstation.
The company also offers dual-purpose integrated microscope systems for exceptional workflow flexibility. The MikroScan S2 holds two standard slides (25x75 mm) or one 50x75 mm slide and the MikroScan S8 holds up to eight standard slides for higher laboratory throughput. Integrated with industry-leading Carl Zeiss microscopes, the systems provide a complete turnkey solution that can operate as both a whole-slide scanner as well as high-end routine brightfield microscope and imaging platform. The microscopes are fully upgradable and capable of additional techniques including fluorescence, phase contrast, and interference contrast.
All MikroScan systems come equipped with a powerful computer and user-friendly Q-Skan slide scanning software pre-installed and configured. With automatic tissue detection, or optional manual tissue selection, and Auto Axis Array focusing, Q-Skan software user interface makes all MikroScan's systems easy to use with minimal training required.
About MikroScan Technologies
MikroScan Technologies has been engaged in the design, sales, and marketing of high quality laboratory instruments for more than 26 years, and specialize in the development of cutting edge whole-slide imaging (WSI) systems designed for pathology, biology and research applications. With game changing technology and pricing, MikroScan products represent a leap in advancement and convenience in the evolution of WSI and digital pathology with the world's most flexible desktop personal whole-slide scanner. MikroScan centers its product development on three primary criteria: 1) Speed of slide image acquisition: necessary to make scanning technology practical in scientific investigation and clinical applications. 2) High quality slide images: necessary for accurate visual or digital diagnostics and or collaboration. 3) Affordability: unprecedented economics that allows scanners on anyone's desktop or lab workstation. For further information visit: http://www.MikroScan.com or follow us on Twitter: http://twitter.com/MikroScan.