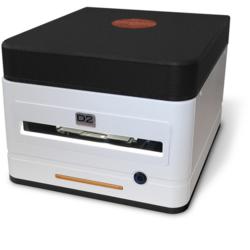 The day has finally come where a pathologist with a minimal investment can run an efficient and effective pathology practice anywhere on earth.
Vista, CA (PRWEB) October 26, 2012
Digital pathology equipment manufacturer, MikroScan Technologies, maker of the MikroScan D2, the small-footprint desktop whole-slide imaging (WSI) scanner, announces that through its scanning technology, and its strategic alliances, they have broken the barriers to remote pathology workstations.
MikroScan has aligned with PathCentral, Inc., a leading pathology technology and services company. PathCentral's cloud-based APLIS provides a workflow solution suited to any pathology environment. Their system has been designed from the ground-up to handle and manage digital images for consultation, peer review, and integration into diagnostic reports. The new alliance gives clients access to a turnkey remote digital pathology solution that is scalable and affordable from individual to enterprise level pathology.
Historically the dream of remote pathology has been obstructed by excessive cost and limited technology, however MikroScan and their partners have turned this convention on its head. The team accomplishes this through a synergy of an affordable scanner, cloud-based APLIS computing, cloud-based informatics, and cloud-based image management with collaborative viewer that produces a powerful solution that ensures immediate return on investment.
Bob Goerlitz, President and CEO of MikroScan said, "We are excited to partner with PathCentral and believe our tools fit perfectly with their suite. The day has finally come where a pathologist with a minimal investment can run an efficient and effective pathology practice anywhere on earth. By moving the computing and image storage to the cloud, you no longer have to worry about expensive servers, storage, and software maintenance. It's a truly affordable investment and only requires the space of a PC and a printer."
Victor Casas, chief technology officer and applications specialist at MikroScan said, "The applications are nearly endless. Our current focus is on collaborative, remote and multi-site digital pathology applications such as frozen section rooms, remote consults, fine-needle cart cytology, tumor boards, education, and rural medical facilities. With PathCentral's tools we now offer everything a pathologist needs, so that they can spend more time on signing out cases and less time on operational issues."
The MikroScan-PathCentral alliance defines a new model that eliminates the barriers of entry and represents a giant step forward for the future of digital pathology.
Visit MikroScan & PathCentral at Pathology Visions Exhibit
You can meet the MikroScan and PathCentral teams face-to-face at the Pathology Visions 2012 Conference and Exhibition in Baltimore, Maryland, October 28-31, 2012, in booth #10.
About MikroScan Technologies, Inc.
MikroScan Technologies, Inc. founders have been engaged in the design, sales, and marketing of high quality laboratory instruments for more than 26 years. The company specializes in the development of cutting edge whole-slide imaging (WSI) systems and communication tools designed for pathology, biology and research applications. With game changing technology and pricing, MikroScan products represent a leap in advancement and convenience in the evolution of WSI and digital pathology. MikroScan centers its product development on speed of slide image acquisition, exceptional imaging quality, and unmatched affordability that breaks through traditional barriers to digital pathology. For more information visit: http://www.MikroScan.com
About PathCentral
Irvine, Calif.-based PathCentral, Inc. provides a range of technology-based solutions and services specifically focused on meeting the needs of community pathologists. PathCentral's solutions assist pathologists in building their practices while improving efficiencies and increasing revenue. At the core of PathCentral's services are a proprietary cloud-based Anatomic Pathology Laboratory Information System (APLIS), an integrated CLIA-certified esoteric diagnostics laboratory, a full-service outreach assistance program, and a range of complementary ancillary services. For more information visit http://www.PathCentral.net.
###