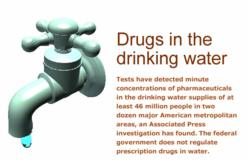 Minneapolis, MN (PRWEB) April 25, 2012
The general manager at Whole House Filter Systems today announced the release of a video series which focuses on drugs that have been found in public drinking water. The video series is a three part interview with an Associated Press writer who talks about the exhaustive five month investigation he did exposing the ever increasing problem of drugs in our drinking water supply.
Drugs in water have been found in major cities throughout the United States, which include San Francisco, California and Tucson Arizona. The video series will help people understand the extent of the problem of drugs in the water supply and a possible solution to the issue. In other words, the videos will give people a better idea of what they are up against on a daily basis when it comes to the quality of our drinking water supply and how it is adversely affecting them.
"We got a water filter system for our house because we got tired of buying bottled water and disposing of the plastic bottles in our landfills. We use it for everything from making coffee to cooking and we even have our shower water hooked up to the filter so we have clean water throughout our entire house." – Tamara Johnson
Some writers and reporters have suggested that the water supply in the United States is under siege with an array of pharmaceuticals which include anti-epileptics medications, sex hormones, mood stabilizers, and antibiotics among other medications and drugs. A few studies indicate that at least twenty-four major cities in the United States have trace amounts of a number of these controlled substances.
What are the long range implications of drugs in the water supply and what can consumers do about it? One possible solution to eliminate drugs and other harmful chemicals in the water is to install a whole house water filtration system which is NSF certified as an entire unit. Water filter systems that are NSF certified are the best systems for homeowners as they are manufactured using the highest quality filters and they are backed by the certification process.
About
WholeHouseWaterFilter.us is dedicated to offering comprehensive information to help homeowners make an informed decision when purchasing a water filtration system for their home. The website is updated on a weekly basis with new information as it becomes available. The employees of the company are currently working on more instructional videos which will be posted in the near future. For more information please visit http://www.wholehousewaterfilter.us/.