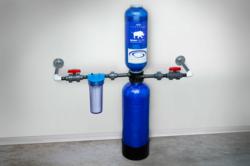 Every household in America, on municipally treated water, has an elevated level of chloroform gas in the air, specifically from showering, washing dishes, washing clothes, and flushing toilets.

- The U.S. EPA
Minneapolis, MN (PRWEB) February 14, 2012
The general manager at Whole House Water Filter System today announced the company is now offering thirty percent off the company's line of whole house filter systems. The discount will run from now until March 26th, 2012 which gives homeowners a little more than a month to take advantage of the low prices on high-quality filters.
The discount applies to well water filters, municipal whole house water filters and municipal whole house filter replacements. The savings can be significant for homeowners who have been contemplating installing a whole house water filtration system which is why they are encouraged to take advantage of the cost reduction. The company's products are already priced well below market value and the extra thirty percent can be a huge incentive for people to save even more money.
"I installed a whole house water filter system because I got tired of having to change filters in the basement and in the kitchen. I figured one unit that covers the entire house would be less time consuming and save me and my wife a little money in the process. I highly recommend that people install a unit that can cover the whole house instead of dealing with different filters and products." – Andersen McNulla
There are many benefits to installing home water filter systems that cover the entire house one if which is that every family member in the home can enjoy clean filtered water from all the water sources in the home. Filters make water safe not only for drinking, but also for doing laundry, preparing food and washing dishes. Another major benefit is that there will be no traces of chlorine and other harmful chemicals in water that's entering the home since they will be removed from the plumbing system as soon as they try to enter the home through the water supply. Overall, the entire house will become a safer and more healthy environment.
About
WholeHouseWaterFilter.us is dedicated to offering comprehensive information to help homeowners make an informed decision when purchasing a water filtration system for their home. The website is updated on a weekly basis with new information as it becomes available. The employees of the company are currently working on more instructional videos which will be posted in the near future. To learn more visit http://www.wholehousewaterfilter.us.
###