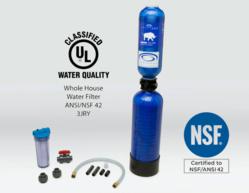 Tests have detected minute concentrations of pharmaceuticals in the drinking water supplies of at least 46 million people in two dozen major American metropolitan areas. The federal government does not regulate prescription drugs in drinking water.
Minneapolis, MN (PRWEB) January 17, 2012
The chief executive officer at WholeHouseWaterFilter.us today announced the company is now offering UL and NSF certified whole house filter systems. The company offers systems which are certified as a whole unit instead of the individual components which is important because the whole system is UL certified and has been through an ongoing rigorous testing process.
The best method for homeowners to determine the quality of their whole house water filter system is to find a filtration unit that is certified by the National Sanitation Foundation. An NSF certification guarantees that the filtration device will perform successfully and according to the manufacturer's claims. More importantly, NSF certification publishes the chemicals that the device is capable of removing so there is no guessing game which is a plus for homeowners who live in rural areas.
Although the top rated house water filter systems are commonly NSF certified, there are a few filter systems on the market today that are certified to NSF standards one of which is Underwriters Laboratories. UL certified water filtration systems are excellent filters which have to go through the same certification process as NSF units. However, as important as the certification and ratings are, homeowners should also be able to trust the source of those ratings which is why NSF and UL certified units are trusted names.
Homeowners who invest in a Underwriters Laboratories certified whole house water filter system show people that they are willing to go above and beyond to provide a quality product to protect their families. Also, buying a whole house filter eliminates the need to purchase more than one filter for every faucet in the home that requires filtered water. One whole house filter will clean the water that comes through every pipe in the home ensuring the homeowner of the consistency and cleanliness of the water entering the home.
People who familiarize themselves with the NSF and UL certifications and ratings will be able to make a sound purchasing decision when it comes to buying a whole house filter system. They will also be able to rise above any hyped-up sales pitch which claims a filter system performs according to standards.
About
WholeHouseWaterFilter.us is dedicated to offering comprehensive information to help homeowners make an informed decision when purchasing a water filtration system for their home. The website is updated on a regular basis so there is always relevant content and news regarding whole house water filtration systems. For more information visit http://www.wholehousewaterfilter.us.
###