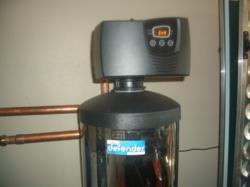 Before I sell a product to anyone we review your local water report to make sure that what you're buying will provide you with the healthiest water possible.
Brookside, Utah (PRWEB) January 24, 2013
Sweetwater LLC announces the addition of the new Terminator Whole House Water Filter to its selection of high quality water purification systems.
The Terminator whole house water filter removes chlorine, chloramine, and the carcinogenic byproducts of these along with other harmful chemicals present in public water as it enters a home. The Terminator is designed to service small homes of one person or a retired couple with low water use.
"I wanted to design a high quality product that could compete with the numerous low cost water filters offered by my competitors. Those generally have numerous drawbacks for the consumer which I was not willing to put my name on. The Terminator incorporates the features I wanted and is matched by a highly competitive price," said James P McMahon, owner of Sweetwater LLC.
The Terminator whole house water filter features include:

Effective downflow design
1 cu ft of high quality carbon
Manual backwash
Lightweight for affordable shipping
Request complete specifications by following the link above.
Sweetwater LLC's premier product is the Urban Defender, the best whole house water filter in the municipal water treatment market. The Urban Defender is designed for the typical family home. When combined with additional components, such as ultraviolet light, a fluoride filter, or water softener, the homeowner achieves comprehensive protection from the contaminants in public water. Follow the link to request detailed specifications.
Sweetwater LLC also features effective kitchen water filters and water purifiers and well water treatment systems. Sweetwater LLC is known for its Kitchen Defender water filter and custom five stage reverse osmosis systems, both for drinking water. Sweetwater offers a complete selection of well water treatment systems including water tests to identify contaminants.
"I offer effective products at a great price," said McMahon. "My service is unique in that before I sell you anything I review your local water report to make sure I am providing you with the water purification system that will give you the healthiest water possible. Be sure to check out my website to learn how I can help you experience healthy water in your home."