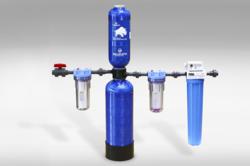 The quality of water in rivers and underground has deteriorated, due to pollution by waste and contaminants from cities, industry and agriculture.
Minneapolis, MN (PRWEB) December 27, 2011
The general manager at the Whole House Water Filter company today announced the business is now offering a more diverse line of products and services in an effort to reach a broader range of customers. The company offers water testing products and custom built well water filtration systems for home which can help with a wide range of well water issues.
One of the new products that the company is now offering is the Aquasana EQ-300 whole house well water filtration system. The Aquasana is designed to remove the harmful bacteria and local pollutants that are sometimes found in well water. The system is one of the newest models to hit the market recently and it is being recommended as the healthiest choice that homeowners can make to help protect their families.
The Aquasana well water filtration system is made specifically to be used in homes and in private wells, and it is an upgrade from the standard systems that are used for municipal water supplies. The system includes a .35 micron post filter as well as a UV filter to deal with any type of well water problems. The Aquasana well water filtration system has raised the bar in the water filtration industry and it is changing the way in which homeowners provide clean water for their families.
The Whole House Water Filter company also offers extensive well water testing and city water testing services that can help a family determine if any contaminants are present in the home's water supply. After the testing is complete the company will submit a report to the homeowners and offer advice on how to correct the problem if any contaminants are found in the home's water supply.
If the company's technicians discover that the home's well water is contaminated during the testing process the business will apply one-hundred percent of the well water testing fee towards the purchase of one of the company's well water filtration systems. For customers who request the company's city water testing services they will deduct fifty percent of the city water testing fee towards the purchase of a whole house water filtration system.
About
WholeHouseWaterFilter.us is dedicated to offering homeowners comprehensive well water testing and well water filtration systems along with information to help homeowners make an informed decision when purchasing a water filtration system for their home. The company employs only knowledgeable well water testing specialists who have years of experience in both city water testing and well water testing. For more information visit http://www.wholehousewaterfilter.us/
# # #