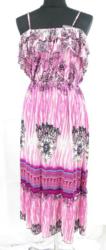 "If we have no peace, it is because we have forgotten that we belong to each other." ― Mother Teresa
Blaine, WA (PRWEB) February 06, 2013
Leading clothing distributor Wholesalesarong.com announces that it has added a wide range of bohemian dresses to its wholesale fashion dresses catalog as it continues dominance in the US and Canada apparel industry.
Wholesalesarong.com is one of the leading wholesale apparel suppliers in North America. Wholesalesarong.com has been in business since 1996 and today it has earned the trust of retailing shops, hippie clothing stores and gift shop operators in continental America. Retailers who are dependent on wholesale fashion distributors for their stock are advised to place orders early so as to avoid disappointment. In addition to garment products, wholesalesarong.com also distributes costume jewelries, watches, fashion accessories and novelty products.
The bohemian fashion clothing selection is huge and the materials are made of comfortable fabric 95% polyester blended with 5% spandex. This latest compilation consists of hippie bohemian halter long dresses, halter sundress, handkerchief hem dresses, bohemian formal dresses, layers gypsy dress, caftan lounge wear short sleeve maxi dresses, kimono dropped sleeve maxi dress, floral design beach wedding dress, padded bra top boho fashion Hawaiian paisley floral maxi dresses, retro vintage floral design tube top mini dresses, kimono blouse tops, bohemian tie dye design women's maxi long dresses, boho chic summer dresses with wide shoulder straps.
Apparel & Sarong http://www.wholesalesarong.com carry many varieties of fashion apparel products. Its wholesale clothing catalog stands out for its exotic and innovative designs. There are many that are going to catch the eyes instantly but they are also not short of classical pieces. For example, the Bali theme halter top and rayon sarong skirt set has never failed to pull in the sales, and this set comes in 50 different designs/colors. There is also the popular designer sarong wrap skirt and caftan top set, again available in 50 different designs/colors. And for that chic look, who can do without the hot fashion elastic stretchy halter-top with art wear wrap pants. There is definitely something for everyone here.
Due to the massive assortment of the current collection, customers will receive their orders with random picks in term of color or print choices (the warehouse staff would mix and match to fulfill the orders) according to individual stock keeping units ordered.
By bringing in bulk quantity and offering wide choices to retailers has been the philosophy of wholesalesarong.com since it was established. And this practice has earned the company many fans among domestic retailers. Thanks to its quality products at affordable pricing, it has seen its customer base increase steadily over the years.
Company Info:
Apparel & Sarong is a US and Canada wholesale distributor supplies Bali arts, clothing, fashion accessory, jewelry, dresses, sarong beach wear apparel, musical instruments to retailers and distributors. Their products include Bali Indonesian pareo, Celtic sarong, tie dye sarongs, African kanga, Mundu Pareau, Sri, Lungi, Dhoti, Canga, Surong, and Lava-Lava, pashmina shawls, punk clothing halter sundress, handkerchief hem dress, Kimono summer dresses, Hawaiian tropical women's sun dress, casual dresses, halter top beach dresses, handmade crochet clothing, mini skirts, kaftan, pants, dancing wear, sundresses, scarf, poncho, tapestries, wall hangings, curtains, bedspreads, throws, altar clothes, Caribbean printed Aloha Hawaiian shirt, musical instrument didgeridoo, rainstick, djembe drum, rattle, shaker, maracas, thumb piano, semi-precious stone jewelry, organic jewelry, pendant, charm, earring, bracelet, necklace, silver jewelry, gemstone ring, fashion accessories, jewelry scarf necklace, handbag, barrette hair clip, hair accessory, affirmation banner, bedcover, fashion watch, pocket watch, body piercing jewelry, home decorations, garden supply and Bali handicrafts made in Bali. More informations can be found here.