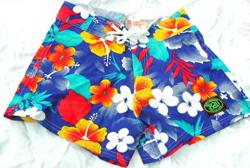 To conquer fear is the beginning of wisdom.-Bertrand Russell
Blain, Wa (PRWEB) February 21, 2013
Wholesalesarong.com announces the arrival of new Hawaiian Aloha theme pants and shorts as additions to their wholesale clothing products for the upcoming summer season.
The latest range of merchandize includes cotton short pants, cotton long pants with Hawaiian hibiscus, Maui plumeria floral plant design prints. They have unmistakable shine and sunny feel and perfect for the partygoers start flocking to the sun, beach and sea. Great fast sellers for stores and boutiques selling summer clothing and resort wear.
Since its inception in 1996, wholesalesarong.com has become a reputable name in the wholesale distribution industry in US/Canada. Across continental America, local retailers and niche shop operators often look up to it as a trustworthy and reliable supplier of fine quality and cheap goods. The company serves wholesale customers in both US and Canada. Their office serves as the physical contact point for its customers (in additional to its website), on products enquiry, pricing or delivery schedule, while the warehouses consolidate all shipments from the international producers before turning them onto individual retailers. This is indeed very helpful as it allows customers to focus on profit generation rather than worry about shipments. In addition to garment products, the company also supplies wholesale handmade jewelry and other fashion accessories.
"All shipments have been successfully loaded into our warehouses. As usual we have travel far into the east to bring back these finely produced wares cheaply so that retailers can still turn in a profit at the end of the day. The current batch of wholesale men's clothing is extensive, besides the Aloha pants and Hawaiian summer shorts, we have the ubiquitous Hawaiian shirts with multiple interesting prints, like sun flower, elements of nature, whirlwind designs, storm patterns and more. We have also brought in some loose fitting dresses with just as interesting prints, these would be handy in this climate," says the spokesman of the company.
"But this does not mean we have overlook the demand of women demographic, which happens to be our most ardent supporters over the years. Aloha is a language that everybody understands and appreciates, so naturally we have to-die-for attires to dress you ladies up," so declares the spokesman while pointing to bunch of mannequins in an assortment of Hawaiian tropical kaftans.
Indeed, their wholesale product range is impressive. They include sarongs, artwear, pareo, swim wear, beach wrap, pants, summer clothing, skirts, bohemian dresses, sundresses, boho chic fashion, retro apparel, maxi dresss, sterling silver toe rings, pendant, necklace, rings, organic body piercing jewelry, wooden earlets, ear stretcher, ear plugs, pashmina shawl scarves, Bali beach jewelry, shells beads, fashion costume jewelry, etc… Please check out their website http://www.wholesalesarong.com to see complete listing of products.
Company Info:
http://www.wholesalesarong.com Apparel & Sarong is a US and Canada wholesale distributor supplies mini skirts, kaftan, pants, plus size women's dresses, Aloha men's shirt, Hawaiian resort wear, beach sun dresses, maxi long dresses, tribal original musical instruments supply, handmade tribal drums, karimba thumb piano, iron gong, handmade Bali percussion instruments, rainstick, didgeridoo, beaded necklaces natural handmade Balinese jewelry, surfer jewelry, seashell bracelets, beads, wooden bangles, horn earlets, bone organic earrings, bracelets, necklaces and chokers, long necklace, sweater necklaces with rhinestone, stainless steel rings bracelet, studs fashion earrings, slave bracelets, Bali silver hoops, snake chain sterling silver necklaces, Celtic pendants, cz silver earrings, hippie apparel tie dye sarong, beach pareo, spring shawls, bubble scarves, jewelry scarf necklace, infinity scarf, women swimwear girl bikinis beachwear. Their wholesale prices and product images can be found by clicking this link.