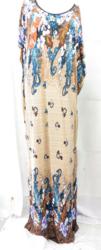 When we die nothing can be taken with us but the seeds of our life's work and our spiritual knowledge.-Dalai Lama
Blaine, WA (PRWEB) February 14, 2013
Wholesalesarong.com announces the arrival of new plus size caftan dresses as additions to their wholesale clothing products for the spring season.
Wholesalesarong.com today reveals that it is putting more focus on plus size women's dresses and comfy lounge wear to drive its growth going forward. The company already boasts of the largest catalog of wholesale garment products in US and Canada, and the focus and the addition of wholesale plus size dress is going to make their catalog even formidable.
Wholesalesarong.com is the leading supplier in the US/Canada wholesale market. Formed in 1996, its operation is supported by its web presence and over 15 years experience of serving wholesale customers in America, Canada and worldwide. They are well known in the retail sector as an established and trustworthy wholesaler in apparel products, jewelries and fashion accessories. The company specializes in sourcing products in low cost producers in far eastern countries and brings in bulk quantity to America so retailers can always count on finely crafted yet cost effective products.
"While I do not want to venture out to say that plus size people are under served in this country, but we can all see that they are not afforded the same rich choice as the average consumers in our country, take garment products for example. The fact remains that they form a significant portion among our population and from commercial perspective; it will be a sin if we continue to overlook their share of wallet. We encourage our retailers to seriously consider this option. Do the math, and you will see a fantastic opportunity out there," the spokesman of the company says.
"It does not represent a drastic move from us at wholesalesarong.com. For years, we have continued to bring in a fair share of products for this particular market segment as a responsible corporate citizen in this country. The difference now is that the company wants to put a stronger focus on this market, so as to address the imbalance in consumer power," the spokesman explained.
The ladies plus size clothing that were put on display are impressive. The stylish caftan bohemian design plus size beach dress and caftan look stylish, with the helm line reaching to the ankles. They fit all size of women, from size 4 up to 6X. Most displays come long sleeves options but there are also short sleeves versions. The company also does not overlook the comfort factor as they are made of 95% polyester and 5% spandex fabric.
In fact the long free-flowing dresses on display add a touch of elegance to the mannequins showing them. They are available in one-piece dress with strap and strapless designs. These can be worn also as a fashion top of so desired.
The color (red, white, black or mixed) and print (interesting and intricate motifs like butterflies, flowers or geometric symbols) choices are also abundant. The batch of imports is definitely visually appealing. For their product pictures and wholesale prices, please visit this link.
Company Info:
http://www.wholesalesarong.com Apparel & Sarong is a US and Canada wholesale distributor supplies Bali arts, clothing, fashion accessory, jewelry, dresses, sarong beach wear apparel, musical instruments to retailers and distributors. Products include cheap wholesale clothes plus sized dresses, swimsuit cover up sarong, scarf, shawl, halter sundress, summer fashion tops for plus size women, handkerchief hem dress, Kimono summer dress, Hawaiian tropical women's sun dress, casual dress, Kimono caftan, maxi dress, bohemian dress, hippie apparel, batik garment, mini skirt, pants, dancing wear, didgeridoo, djembe drum, semi-precious gemstone stone jewelry, costume jewelry, sterling silver pendant, charm, earring, bracelet, necklace, natural organic jewelry, body jewelry, anklet foot jewelry, toe rings, foot wear jewelry, fashion accessory, handbag, barrette hair clip, hair accessory, affirmation banner, bedcover, bangle watch, pocket watch, home decoration, garden supply and Bali handicraft. For product details please go to their online website here.