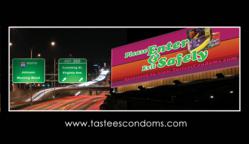 National Condom Month has become a tool to help educate young adults about the serious risks involved with unprotected sex
San Francisco, CA (PRWEB) March 08, 2012
Tastee's Condoms, the original brand of flavored condoms, joined the rest of the world this past February to advocate awareness against unprotected sex during National Condom Month. In celebration of the month, Tastee's Condoms donated 1,000 condoms to a non-profit, sexual health organization.
"National Condom Month has become a tool to help educate young adults about the serious risks involved with unprotected sex," David Ashforth of Tastee's Condoms said. "This includes catching and spreading sexually transmitted diseases, like HIV, as well as unwanted pregnancies."
National Condom Month was started by students at the University of California-Berkeley in 1978 during Valentine's Day week. Since then, the celebration has grown to become an educational event for high schools, colleges, family planning organizations, AIDS groups, STD awareness groups, pharmacies and condom manufacturers.
FlavoredCondoms.org also joined in the awareness month by including a free male herbal supplement for every order of Tastee's Condoms.
Tastee's Condoms have been manufactured in the U.S. since 1991 and is FDA approved and individually tested to exceed all international standards for durability. Customers may buy condoms in an assortment of packages and flavors, including banana, strawberry, grape and more. Tastee's Condoms also supplies wholesale condoms for convenience stores, adult stores, etc.
For more information about National Condom Month or any of Tastee's Condoms' products, call 855-208-3106 or view the condom wholesaler on the web at Tastee's Wholesale Condoms.
About Tastee's Condoms
Located in San Francisco, Tastee's Condoms is one of the best-selling condoms in the U.S. and is known to be the first creator of flavored condoms. The Tastee's Condoms brand was acquired in 2011 by a San Francisco adult novelty company with 12 years of experience in the industry. Tastee's Condoms is expanding its market and will soon be introducing a natural condom, a ribbed and studded condom, an Atomic Sour flavored condom and more.