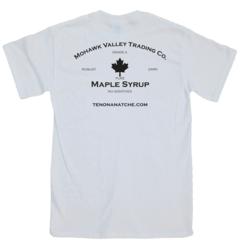 (PRWEB) April 16, 2013
MyLocalWholesaler.com, the premium online directory of American Wholesalers and American Manufacturers, announces the addition of custom t-shirts to its directory service.
Although t-shirt printers from around the world can be found on MyLocalWholesaler.com, it is the website's number one goal to promote and support American t-shirt printers, direct to garment printers and screen printers.
Custom t-shirts are one of the most inexpensive yet cost-effective marketing tools available. One of the advantages they have over other promotional products is that wherever people wearing t-shirts with a logo or slogan on it go, the brand or message goes. It is a great way to promote a cause or build awareness about goods or services.
Although the most popular method of printing t-shirts is screen printing, some t-shirts are printed using Direct To Garment Printing (digital garment printing or DTG) which is the process of using inkjet printers to print an image directly onto t-shirts without the use of screens like with screen printing, which requires a lot of setup e.g., creating screens for each color. In addition, DTG printing uses eco-friendly, water soluble ink, unlike some screen printing methods that layer Plastisol (a suspension of PVC particles in a plasticizer) on top of the t-shirt. The only requirement for DTG printing is for the image to be high resolution, resulting in photograph quality printing with no setup fee or minimums for custom t-shirts.
T-Shirts
The t-shirt evolved from undergarments used in the 19th century, through cutting the one-piece "union suit" underwear into separate top and bottom garments, with the top long enough to tuck under the waistband of the bottoms. By the Great Depression, the t-shirt was often the default garment to be worn when doing farm or ranch chores, as well as other times when modesty called for a torso covering but conditions called for lightweight fabrics. T-shirts, with and without buttons, were adopted by miners and stevedores during the late 19th century as a convenient covering for hot environments.
T-shirts, as a slip-on garment without buttons, originally became popular in the United States when they were issued by the U.S. Navy during or following the Spanish American War. These were a crew-necked, short-sleeved, white cotton undershirt to be worn under a uniform. It became common for sailors and Marines in work parties, the early submarines, and tropical climates to remove their uniform "jacket", wearing (and soiling) only the undershirt.
Named the t-shirt due to the shape of the garment's outline, it soon became popular as a bottom layer of clothing for workers in various industries, including agriculture. The t-shirt was easily fitted, easily cleaned, were made in various colors and patterns and inexpensive, and for these reasons, it became the shirt of choice for young boys.
MyLocalWholesaler.com is not only an online directory but a community of wholesale buyers, sellers, liquidators, jobbers, drop shippers and distributors from around the world. MyLocalWholesaler.com provides information on wholesalers of almost everything from general merchandise to: appliances, handbags, luggage, maple syrup, apparel and accessories, t-shirts, toys, house wares, embroidery, collectibles, candles, electronics, honey, arts & art supplies, shoes & footwear and more.