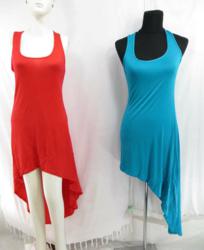 Blaine, Wa (PRWEB) June 21, 2013
Clothing distributor Apparel & Sarong wholesalesarong.com adds new jersey dresses to its wholesale catalog. Wholesalesarong.com today unveils its latest range of jersey dress made of cotton. The shipment is imported in anticipation of the high lucrative summer shopping season. The company has announced that it will want to further consolidate its market leadership position in the North America wholesale distribution. The range is spearheaded by the excellent looking jersey dress asymmetrical dress, but it also comprised of other jersey products in various cutting and prints.
Apparel & Sarong Wholesalesarong.com is the top player in the supply of cheap wholesale apparel in both US and Canada. Established since 1996, the company focuses on helping local retailers to source cheap products from Asian countries like Indonesia and China. Today it has established an extended supply chain that allows it to bring cheap yet quality products into continental America. Their products impress not just by the sheer number but also in diversity, as consumers are afforded more choices made possible by wholesalesarong.com. It has earned the trust among local retailers, by associating itself as a reliable distributor who brings quality products with amazing pricing. In addition to apparel products, the company also supplies wholesale giftware, jewelries, watches, and general fashion accessories.
"Unlike cardigan, which opens at the front, jersey is a sort of pullover. That is the distinction between jersey and cardigan, even though both are used widely as synonymous to sweater. Our jersey products are knitted with cotton, so that makes sure that we take care of the comfort factor of the wearers. Every piece of the fabric comes with impeccable needlework, and the reason we make these from Asia is because the region has long been associated with fantastic work rate and product quality. So you will find your jersey perfectly knitted without a strand out of place," remarks the spokesman of the company proudly.
The jersey asymmetrical dress is striking in that it does not conform to conventional sense of fashion or the familiar symmetrical approach to formal wear. This adds a dash of excitement and personal style to the clothing. This more unorthodox approach has attracted new fans, especially people who like to project a statement about their fashion sense. But the collection is not restricted to just asymmetrical jersey dress, there are also symmetrically designed jersey on offer as well. To appreciate the full glory of this amazing range, check out their web page at http://www.wholesalesarong.com/wholesale-clothing-dre1.htm.
Wholesalesarong.com delivers daily to its customers via standard UPS ground. For overseas retailers, please check with its customer service representative on alternative shipping arrangements.
Company Info:
http://www.wholesalesarong.com Apparel & Sarong is a US and Canada wholesale distributor that supplies Bali arts, clothing, fashion accessory, jewelry, dresses, sarong beach wear apparel, musical instruments to retailers and distributors. Products include cheap wholesale clothing, plus sized dresses, swimsuit cover up sarong, scarf, shawl, halter sundress, summer fashion tops for plus size women, handkerchief hem dress, Kimono summer dress, Hawaiian tropical women's sun dress, casual dress, Kimono caftan, maxi dress, bohemian dress, hippie apparel, batik garment, mini skirt, pants, dancing wear, didgeridoo, djembe drum, semi-precious gemstone stone jewelry, costume jewelry, sterling silver pendant, charm, earring, bracelet, necklace, natural organic jewelry, body jewelry, anklet foot jewelry, toe rings, foot wear jewelry, fashion accessory, handbag, barrette hair clip, hair accessory, affirmation banner, bed cover, bangle watch, pocket watch, home decoration, garden supply and Bali handicraft. For product details please go to their online wholesale catalog here.