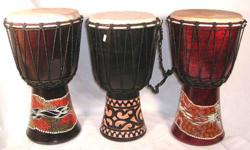 Blaine, Wa (PRWEB) May 09, 2013
Wholesale supplier wholesalesarong.com adds djembe drums to its wholesale musical instrument catalog. Wholesalesarong.com believes that its newly imported djembe drums could help to stretch its domination in the competitive acoustic music instrument market. The latest import, freshly arrived from the East, represents yet another demonstration of the company's ambition to do well in the American and Canadian wholesale musical instruments scene. The djembe drum carries a distinctive tribal flavor with its intricate wood carving.
Wholesalesarong.com started its business as a web based distributor. It helped a handful of web savvy retailers to bring in cheap yet decent products from Far East countries like China and Indonesia for American consumers. The company was originally set up in 1996 and it has since grown to its tremendous size today, serving over 10,000 wholesale customers in the US, Canada, and worldwide. It is well known as one of the leading wholesale suppliers of home décor products, jewelry, clothing, watches and gift items.
"This is what I will call multi-purpose tool. Technically they are acoustic musical instruments that allow tribal folks to make merry and celebrate joyous occasions, yet when you inspect their physical appearance more closely, you can't really help but feel impressed with the intricacies and originality of these drums. They are so beautifully handcrafted and definitely demand space in the homes as decorative items. Perhaps even true collectors may want to take a fancy of this item. Such opportunity is rare in our trade. So the take away today is for retailers to seriously consider reserve some shelves space for this product, it can be a real money spinner this summer," says the wholesalesarong.com spokesman, as he shows off the wooden djembe drum.
Wholesalessarong.com offers an impressive range of tribal musical instruments. In addition to djembe drums, the other products are the rainmakers, frog buzzer noise makers, bamboo whistles, Balinese handheld drums, mediation chimes, iron gongs, pan pipes, thunder-maker drums, xylophones, rattles, shaker, maracas, thumb pianos and more. For detailed listing of the music equipments, please refer to http://www.wholesalesarong.com/wholesale-bali-music-instrument.htm.
The djembe drums and other exotic music instrument are immediately available for orders. All deliveries would be made within 3-5 days. The delivery mode is standard UPS ground. For retailers outside continental America, please check the website for alternative shipping modes.
Company info:
Apparel & Sarong is a US and Canada wholesale distributor supplies Bali arts, clothing, fashion accessory, jewelry, dresses, sarong beach wear apparel, musical instruments to retailers and distributors. Products include Bali Indonesian handicrafts, natural artifacts, affirmation banner, spiritual inspirational flags, photo albums and notebooks, chess sets, bamboo wind chimes, dream chimes, abstract wood carvings, wall plaque, Canvas Art oil paintings and contemporary acrylic Balinese paintings, inspirational arts and home accent decorating gifts, beach wear clothing pareo sarong, scarves shawls, punk clothing, halter sundress, maxi dresses, bohemian dresses, hippie apparel, batik garment, mini skirts, kaftan, pants, dancing wear, sundresses, poncho, tapestries, Caribbean Aloha Hawaiian shirt, percussion musical instruments, didgeridoo, rainstick, djembe drum (also called African hand drums, Goddess jembes, African jimbe, bongos congas), vuvuzela stadium horns, rattle, pan flute zampona, etek etek Indonesian musical shakers, maracas, thumb piano, semi-precious stone jewelry, organic jewelry, sterling silver jewelry, jewelry scarf necklace, handbag, barrette hair clip, hair accessory, bronze jewelry, bangle watch, pocket watch, body piercing jewelry.