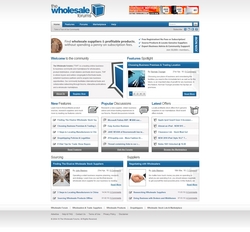 Many individuals recently made redundant are turning to the web out of financial necessity. Unemployment continues to spiral, put simply, does the web provide a viable exit strategy?
London, UK (PRWeb UK) May 14, 2010
A leading independent wholesale forum and trade suppliers marketplace today released news of reaching a momentous milestone despite operating through the global economic turmoil. The online community which claims to have defied the wide spread effects of the recession by providing a free platform for small businesses to connect with each other, share experiences and advice recently announced the feat of 50,000 registered members.
The Wholesale Forums which attracts a worldwide audience of wholesalers, product distributors, importers/exporters and trade stock buyers, first opened its doors in 2004 when the opportunity of creating a networking platform 'for the trade' was realised. It would appear that now in their sixth year, the site has enjoyed a steady but sustained level of growth most especially in the last 18 months if registrations are any indication. According to third party metrics, the site attracts in excess of 120,000 trade visitors on a monthly basis and is enjoying a period of exponential growth (Sources: Quantcast, Alexa). It would seem evident then that a site which relies heavily on a premium advertisements business model would run into tough ground during an economic downturn where budgets are somewhat slashed.
When posed the question over whether the recession had stunted growth of the community, Anthony Trollope, a spokesman from the company behind the site said – "In actual fact we have seen completely the opposite in terms of growth and membership activity. Many smaller firms, including a considerable number of start-ups have looked to the web for a source of additional income or in the case of an existing business, turnover growth. This is nothing inherently new, of course, but definitely greater in number than previous years. Additionally, there are those many others who are casualties of the economy and face redundancy. These are individuals that out of necessity are having to consider self-employment as a viable option because of record unemployment figures and spiralling national debt. The Internet in its very nature is that any individual with some tenacity and basic IT skills has the potential to create a business quickly and effectively especially by harnessing all of the free information and tools that there are now available. We are in the business of providing a collaborative venue in which start-ups and experienced business owners alike can utilise in order to converse with other like-minded businesses and gain a valuable and insightful networking resource within the industry."
Indeed, it would appear that while there is still an ambition for personal prosperity or in the case of many, basic financial survival, wholesale platforms that facilitate the networking of small businesses and the resale of trade goods shall continue to play an important role in the economy, especially in these turbulent fiscal times.
Press & Media Information
The Wholesale Forums is a leading online business-to-business community and marketplace for wholesalers, product distributors, small retailers and trade stock buyers. This is a website in which buyers and sellers can collectively join to collaboratively network, establish business partners and acquire new trade leads with suppliers. The site facilitates International trade and provides a venue for collaboration through community forums, interactive publications and a stock & services marketplace.
# # #