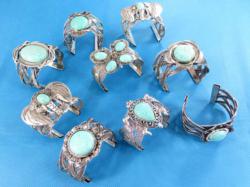 Through violence, you may 'solve' one problem, but you sow the seeds for another. -- Dalai Lama
Blaine, WA (PRWEB) January 16, 2013
Wholesalesarong.com adds new gemstone rings, earrings and pendants into its massive wholesale jewelry product line.
Wholesalesarong.com today announces its new shipment of gemstone jewelry accessories has arrived, and the company is ready to take in orders with immediate effect. All deliveries will be made on standard UPS ground to addresses in US and Canada. The shipment consists of a dazzling array of fine jewelry and it expects brisk sales of these products into 2013. Wholesalesarong.com has been a long established name in the wholesale accessories sector, and with this latest catalog, it is set to build up its reputation further.
The company is one of the biggest jewelry wholesale distributors in North America. Established in 1996, it has serviced a massive number of retailers across US/Canada through the years. It is the first name most retailers turn to when it comes to quality products and competitive pricing.
"This is a significant shipment that we expect this collection of fashion jewelry would give the new year a head start. We have always kept an eye on what is hot out there in the market, and what drives the fashion sense across different demographics and sexes. Driven by both intuition and observation, we have decided on this collection of really fine crafts to start the years. We believe this shipment would appeal to the broad market as we make the transition from winter into spring 2013," said the spokesman from wholesalesarong.com.
"We have been in the market for long time and we are acutely aware of the fashion trends of the time, So this catalog would work in the market, across all spectrums of consumers. For example, if you like your fashion statement loud, this drop shape moonstone sterling silver earring with white gemstone inlay would appeal as you make a statement about yourself to the wider world. If a more subtle statement is desired, then this black onyx wavy sterling silver brooch with turquoise gemstone would do the work. Still it is no less of expression of individuals," added the company spokesman, with a sample on each hand.
Indeed, the spokesman's illustration just demonstrates the breadth and depth of this latest catalog. This batch of merchandize comes in many forms. There are the usual black onyx, moonstone, turquoise, pink quartz, gold sandstone, tiger-eye, green malachite, lapis gemstone, etc… These stones make its way into their wholesale jewelry range nicely. The range covers wholesale gemstone necklaces, bracelets, earrings, rings, pendants and more. Other than the genuine and semi-precious stones, this catalog also features seashell necklace chokers, seashell jewelry bracelets rings and dyed seashell selection fashion sterling silver pendants, just to add more fun into your accessories. For detail product information, please check out their wholesale catalog online.
Company Info:
Apparel & Sarong is a US and Canada wholesale distributor supplies Bali arts, clothing, fashion accessory, jewelry, dresses, sarong beach wear apparel, musical instruments to retailers and distributors. Products include Bali Indonesian pareo, Celtic sarong, tie dye skirts, African kanga, Caribbean printed Aloha Hawaiian shirt, didgeridoo, rainstick, djembe drum, rattle, shaker, maracas, thumb piano, bohemian dresses clothing, hippie apparel, semi-precious stone jewelry, organic jewelry, pendant, charm, earring, bracelet, necklace, silver jewelry, maxi dresses, bohemian dresses, mini skirts, kaftan, pants, dancing wear, poncho, horn bone wood organic jewelry, gemstone handmade jewelry, body jewelry ear plug, anklet foot jewelry, semi-precious stone, gemstone ring, fashion shawl, jewelry scarf necklace, handbag, barrette hair clip, hair accessory, affirmation banner, bedcover, bronze jewelry, bangle watch, pocket watch, body piercing jewelry, bone spiral, water buffalo horn jewelry, hanging claw, batik apparel and handicrafts made in Bali Indonesia.