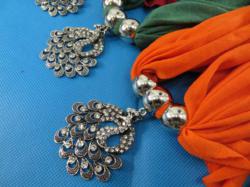 Blaine, Wa (PRWEB) May 29, 2013
Wholesalesarong.com announces today that the newly imported jewelry scarf necklace is now available, along with other merchandise from their latest shipment from China. The new import itself is a good blend, covering all product classes, from the simple bandana to classical looking hats, flowery aloha shirts to elaborated reggae style hemp belts, elegant gemstones to glittering necklaces, and also the interesting jewelry pendant scarf necklace. There are the usual rich choices here as retailers can browse the many colour choices, designs, trims, and materials. This jewelry necklace scarf line is the result of innovative and creative energy from product designers and manufacturers. They came up with this new concept and brought jewelry into everyday apparel. The scarf itself is made from polyester with a soft cotton feel to ensure maximum comfort.
Wholesalesarong.com is one of the leading suppliers in continental US wholesale distribution. Formed in 1996 as a modest web set-up specializing in product distribution, it has gone on to become a major market leader in importing low cost and good quality merchandise from Eastern countries like China and Indonesia. The products it imports include apparel, jewelry, watches, sunglasses, home decor products, novelty items and general fashion accessories. Today, it has earned its reputation as the most reliable and cost effective wholesale distributor among retailers in both US and Canada.
"By incorporating jewelry into the scarf, we are effectively offering two products into one package. This makes it a lot easier for the wearer, who no longer has to struggle with how to mix and match the jewelry and scarf on a daily basis. Instead, we make that decision easy for you by presenting a two-in-one solution. Mind you, we are not restricting the choices here. Take a good look at the combination. Look at the polyester scarves, there are plenty of options - there are the solid color models, simple lines and more elaborate patterns, and most importantly, they all have that nice comfortable cotton feel. As for the jewelry pendants, they are made of crystal stones and are available in a wide variety of motifs. These are the popular cross pendant designs, owl shaped pendants, flower motifs, seashell charms, vintage inspired filigree styles and more," says the spokesman of wholesalesarong.com.
In addition to charm jewelry necklace scarves, there are also many more eye-catching products as well - including the men's checker polyester scarf, chiffon silk scarf, and light shawl beach wrap sarong. The many options of prints and designs make all these highly appealing.
Wholesalesarong.com delivers from its centralized warehouses to retailers via standard UPS ground. Minimum order value applies but the company offers free shipping for orders over $300. Their wholesale scarf product details can be found on http://www.wholesalesarong.com/wholesale-shawl.htm.
Company Info:
Apparel & Sarong is a US and Canada wholesale distributor who supplies Bali arts, clothing, fashion accessories, dresses, and sarong beach wear apparel, and musical instruments to retailers and distributors. Products include cheap wholesale clothing, plus sized dresses, swimsuit cover up sarong, scarf, shawl, halter sundress, summer fashion tops for plus size women, handkerchief hem dress, Kimono summer dress, Hawaiian tropical women's sun dress, casual dress, Kimono caftan, maxi dress, bohemian dress, hippie apparel, batik garment, mini skirt, pants, dancing wear, pashmina shawls, polyester scarf, infinitive scarf, chiffon scarf, double pendant jewelry scarf necklace, lightweight beach wrap, magic scarf shawls, yarn knitting scarf, neck warmer, wrinkled scarf muffler, cheap thermal scarf, plaid checker evening wraps, didgeridoo, African style drum, semi-precious, costume jewelry, sterling silver pendant, charm, earring, bracelet, necklace, natural organic jewelry, body jewelry, toe rings, fashion accessory, handbag, barrette hair clip, hair accessory, affirmation banner, bed cover, bangle watch, pocket watch, home decoration, beach sun hats, garden supply and Bali handicraft. For product details please go to their online wholesale catalog at http://www.wholesalesarong.com.