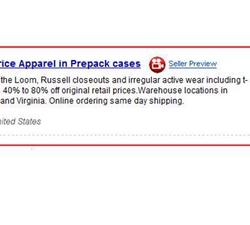 buyers gain more information about the seller's products, staff and warehouse facilities
San Diego, CA (PRWEB) December 9, 2009
JP Communications, Inc. – publisher of leading Internet vertical search and directory sites connecting wholesalers, manufacturers and distributors with retail buyers –- is the first vertical search engine to offer advertisers Seller Preview, a new video ad feature on TopTenWholesale ®. This new video ad is designed to enhance the trading experience between buyers and sellers, improving the sourcing process for retailers and wholesalers alike.
Seller Preview Is an Industry First in the USA
JP Communications, Inc. is the first vertical search engine publisher in the US to offer this type of video feature enhancement. "We are very pleased and excited to provide this new video feature to our advertisers because it makes trading transactions more transparent and stress free for their customers," said Jason Prescott, CEO of parent company JP Communications, Inc. "As we continue to invest and innovate at JP Communications, we strive to improve the way buyers connect and source suppliers," continued Prescott. "Video is the future of online ecommerce because it's such a compelling way to sell products. Case studies show that video consistently improves conversion rates and revenue for ecommerce merchants," he added. "Right now, JP Communications is the only vertical search company in the US offering the convenience of video ads for the benefit of buyers and sellers. Just as we were the first to bring online news, blogs and social features to our network, our new precedence for video will surely be followed," concluded Prescott.
Seller Preview Advantage for Buyers and Sellers
The Seller Preview video feature ultimately helps buyers make a better purchasing decision by providing more insight into the seller's capabilities. It can give international buyers peace of mind as trust in overseas trade is always a challenge. By viewing the video, buyers gain more information about the seller's products, staff and warehouse facilities. And since video is proven to engage users, it gives the seller an edge over the competition. Equally important, this feature will improve the clickthrough ratio to the search listings of wholesalers and manufacturers.
How the Seller Preview Video Works
The Seller Preview video is displayed on the TopTenWholesale.com search results page through a small video icon next to the search listing for wholesalers, distributors or manufacturers. For example, you can click here to see a Seller Preview video for RG Riley as shown in the image above. The video ad will subsequently be displayed on the search result page.
Seller Preview Information:
For more information on the purchase of Seller Preview video ads on TopTenWholesale ®, contact jonathan(at)toptenwholesale(dot)com.
About TopTenWholesale ®
TopTenWholesale.com is the flagship Internet property of JP Communications, Inc., a leading wholesale directory and search engine that directly connects resellers and buyers in the global and domestic general merchandise trade with wholesalers, manufacturers, distributors, drop-shippers, importers and exporters. TopTenWholesale offers vertical, industry-specific, search services, directory listings, industry news and online advertising for over 100 wholesale product categories, including apparel, footwear, jewelry, accessories, health and beauty products, merchandise closeouts and toys and gifts.
About JP Communications, Inc. ®
Parent company and network publisher of various vertical search engines and directories, JP Communications, Inc. includes TopTenWholesale.com, Manufacturer.com, Wholezilla.com, OffPriceNetwork.com, WholesaleU.com and TopTenWholesaleTrends.com. JP Communications, Inc.'s mission is to be the information superhighway for the general merchandise industry, facilitating buying and selling of wholesale products in dozens of product categories across the entire supply chain, from manufacturers, outsourcers, importers and wholesalers to wholesale liquidation specialists, distributors, resellers, store owners and online retailers of every size.
Find It. Source It. Profit!
###