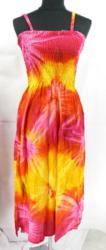 "When you don't have anything, then you have everything." - Mother Teresa
Blaine, WA (PRWEB) February 04, 2013
Today clothing wholesaler Wholesalesarong.com announced the new arrival of rayon dresses as additions to their fashion clothing products for the coming spring season.
Apparel & Sarong was established in 1996 originally as a women's clothing online distributor. Today it has become one of the biggest wholesale distributors in North America. It not only caters for unisex clothing, but also supplies fashion costume jewelry, trendy watches, oriental artworks and handcrafted gift items. The company has served customers in both the United States and Canada for over 15 years.
The current shipment offers a large array of choice; it covers all sorts of summer dresses that wholesale suppliers bring to the table. This collection consists of a very comprehensive range of fashion clothing, from casual wear to street wear, and from trendy hip hop style to bold hippie fashion.
"This is really an impressive lot. In fact, it is one of the single biggest shipments we have ever brought in. We have been moving forward well through the successful sales chalked up across both Canada and the US last year. Our retailers definitely can relate to our success. Admittedly, we are not completely out of recession yet, but many indicators suggest improvement in the economy, companies are doing well and job take up rate is improving, though these improvements are progressing slowly. With the impending up turn overall, consumers would want to exercise some discretionary spending after holding back this urge for the last couple of years," so said the spokesman from wholesalesarong.com.
"We have operated in this market for many of years and we have good insights on what sells. Through keeping an eye on the underlying fashion trends and economic condition, we have painstakingly put together a wholesale product line with mass appeal in mind, and we have great confidence that this is a good mix for retailers. Our objective is always quality products at affordable price, be it a simple scarf, maxi dress, sarong, beach cover up or rayon dress. I would like to add that these all come with fabulous design and craftsmanship; there will be plenty of stuff that are going to offer real value to the market," continued the spokesman.
This latest rayon dresses collection is interesting. It starts from the conventional urban wear to unique clothing styles. There are hippie fashions as well as the very chic maxi dresses, sun dresses for the beach. There is also a good variation of tropical dresses available, including Hawaiian floral print sundress and traditional Bali batik clothing.
Company Info:
http://www.wholesalesarong.com Apparel & Sarong is a US and Canada wholesale distributor supplies Bali arts, clothing, fashion accessory, jewelry, dresses, sarong beach wear apparel, musical instruments to retailers and distributors. Products include swimsuit cover up sarong, scarf, shawl, halter sundress, handkerchief hem dress, Kimono summer dress, Hawaiian tropical women's sun dress, casual dress, Kimono caftan, maxi dress, bohemian dress, hippie apparel, batik garment, mini skirt, pants, dancing wear, didgeridoo, djembe drum, semi-precious gemstone stone jewelry, organic jewelry, sterling silver pendant, charm, earring, bracelet, necklace, natural organic jewelry, body jewelry, anklet foot jewelry, toe rings, foot wear jewelry], fashion accessory, handbag, barrette hair clip, hair accessory, affirmation banner, bedcover, bangle watch, pocket watch, home decoration, garden supply and Bali handicraft. For product details please go to their online website here.